24 July 2008 Edition
Adams extends best wishes to Mandela on 90th birthday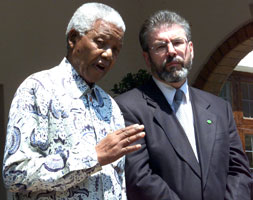 Sinn FÉin President Gerry Adams last week added his voice to those extending their best wishes to former South African President Nelson Mandela on his 90th birthday.
In a statement issued on Friday, 18 July Adams said:
"I have had the pleasure of meeting with Nelson Mandela on a number of occasions since his release from imprisonment on Robben Island.
"Sinn Féin have enjoyed a long relationship with the ANC and they have played a key role in the development of the Irish peace process.
"On this the occasion of his 90th birthday I would wish to extend my best wishes and those of Irish republicans to former President Mandela."