24 July 2008 Edition
Matt Treacy
Pitch incursion fear recalls era of the 'Boot Boys'
MY FIRST memory of a pitch invasion was years ago before Dublin played Roscommon, I think in a league game in Croke Park and a gang of what were then known colloquially as 'Boot Boys' – lads with long, scraggly hair, denim jackets and tartan bottomed flares and Doc Martens – got onto the pitch and kicked the ball from under the referee's foot and proceeded to play with it among themselves until they reached the corner of the Hogan and Canal End where they climbed back over the wire.
Not far below from where myself and the Da were in fact and there was much muttering among the grown ups about gurriers and giving them a 'clip in the ear' for their trouble. Boot Boys were a big topic of conversation for us smaller fry and if you had an older brother who was a Boot Boy you were seriously well got. And there was even the odd Boot Girl – one of whom used to play hurling with us in the field and bate lumps out of us. Character building stuff.
The invasions were all pretty harmless and non-violent imitations of the audience participation that was plaguing soccer at the time but there was a constant fear that some day the Dubs would be leading near the end of the game and the Boot Boys and their sidekicks and apprentices and labourers would succeed in having the game abandoned.
I have to admit it was something that briefly troubled me when the swarm appeared last Sunday although I doubt Wexford would have thanked anyone for that. Still, if the game was close and given the near impossibility of stopping an incursion once it had begun and more people start to be pulled or pushed towards the pitch and 'Plan B' is implemented in the interests of safety, then it could very well happen.
So, lest that be the very last thing that stops Dublin winning the All Ireland something needs to be done! And if that requires fencing then so be it.
Not much to say about the actual match. The score line is a new record for a Leinster final and surpasses the 20 point drubbing given to the Royals in 1955. Mind you Meath for a time were in danger of a similar hiding at the hands of Limerick before several late goals made the hammering somewhat less offensive to the naked eye. Anyway, just thought I'd mention it in case you hadn't heard! Come back, it's not the same without you.
The next round of the qualifiers comes on Saturday with the winners going on to face Kerry, Mayo, Wexford and the losers of the Armagh/Fermanagh replay. It is a demanding schedule and one that puts a premium on avoiding injuries and suspensions.
Possibly the most interesting match is in Omagh where Tyrone take on Westmeath. Tomás Ó Flatharta's side are the Leinster team most like an Ulster team – just as Fermanagh are the Ulster team that you might actually enjoy watching (mental note to ignore invitations to late night soirees in the Half Door).
As they showed against Dublin, Westmeath are difficult to break down in defence and have two scoring forwards in Dolan and Glennon who can capitalise on quick ball sent their way. The trouble is they don't really have anyone else and the other four forwards are in truth really defensive players. So coming face to face with the doyens of the blanket defence, it could make for an intriguing encounter. Possibly what may swing it in favour of Tyrone is home advantage, greater experience and crucially a better range of scoring options. Still, I would not at all be surprised if Westmeath won this.
The other big game is between Donegal and Monaghan who were expecting to meet one another in better circumstances.  Monaghan were fortunate enough in the end to beat Derry in a poor game while Donegal gave Roscommon a bit of a skelping. The bookies can't separate these two and neither can I. Monaghan maybe.
Laois and Down face one another in Portlaoise. Down walloped Laois's neighbours Offaly last week but their hosts will not be that bad and have a good record in the qualifiers even when not really given much of a chance. I reckon they might again postpone their eventual demise.
The final match is between Limerick and Kildare in Limerick. The former should really have had Cork dead and buried in the Munster semi-final and absolutely demolished Meath. They are genuine contenders and no-one will want to meet them. They will win on Sunday and I'd say Mickey Ned would not be altogether disappointed if 'Ciarraí' is the name that emerges from the drum opposite Limerick on Saturday night. Maybe that would inspire more than 4,500 to turn up to see them.
The hurling quarter finals see Cork take on Clare and Waterford meet Limerick. Cork were magnificent last week, surviving what looked like a disaster just before half time to decisively defeat a Galway team who with notable exceptions, seemed to have thought all they had to do was leave the dressing room after the break.
Cork, however, still showed signs of ageing and frailties which might be exposed again although perhaps not against Clare. In a way the match reminded me a bit of the 1979 Leinster Football Final when Dublin, in their declining years, staged a huge comeback minus Keaveney to beat Offaly. But that was really the end of them. Their swansong. Perhaps Cork will write a different conclusion.
Eoin Kelly racked up a huge tally last week for Waterford against Offaly but they will need a few more of their forwards to hit form if they are to advance much further. The draw has been kind to them and they should beat Wexford although Wexford like Offaly are always capable of upsetting one of the big names.
Finally there were unconfirmed rumours as I put this to bed that Paul Galvin's suspension had been overturned although the DRA had not made any announcement and indeed can only make recommendations. If this turns out to be true it will come as a huge boost to Kerry as they prepare for their qualifier match. It will also have serious implications for the way disciplinary issues are dealt with.

An Phoblacht Magazine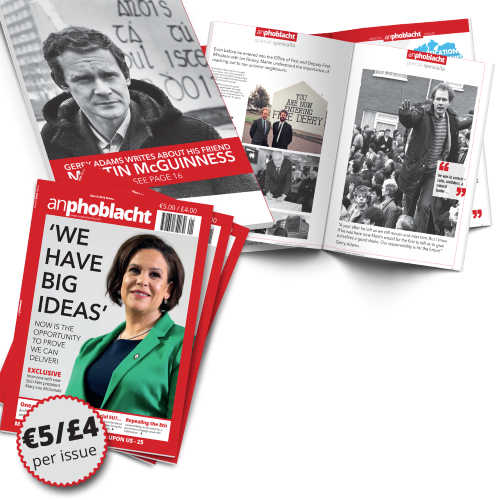 AN PHOBLACHT MAGAZINE:
The first edition of this new magazine will feature a 10 page special on the life and legacy of our leader Martin McGuinness to mark the first anniversary of his untimely passing.
It will include a personal reminiscence by Gerry Adams and contributions from the McGuinness family.
There will also be an exclusive interview with our new Uachtarán Mary Lou McDonald.
test