24 July 2008 Edition
A better EU deal is possible
THE recent visit of EU President Nicholas Sarkozy to Ireland was a useful exercise despite the less than perfect arrangements around the meeting itself.
Contrary to the views of some European politicians and Irish commentators, following the rejection by Irish voters of the Lisbon Treaty another deal is possible.
It is true that there is no appetite for a new treaty among some EU leaders, including Sarkozy. However, since 12 June a number of member state governments, a wide variety of political voices and important social movements including the European Trade Union Confederation have expressed an interest in re-negotiating key aspects of the treaty. Indeed a majority of public opinion in France and the Netherlands continues to be opposed to the treaty and wants fundamental change.
The space and the support for a new treaty clearly exists. If the Irish Government were to take a lead in building a political and social alliance for a better deal it would reap substantial dividends both in terms of the content of any new treaty and in its standing among the peoples and governments of the EU.
The difficulties involved in building support for a new round of negotiations should not be underestimated. Sinn Féin wants to play a constructive role and to assist the Irish Government in what should be a truly national effort.
The rejection of the Lisbon Treaty gives the government a strong hand in any future negotiations. The question now is how the Taoiseach will use that hand and whether he has the political will and courage to use it to maximum affect.
When the European Council meets in October Brian Cowen must call for a new round of negotiations and a new treaty. If he does we all take one step closer to a better deal for Ireland, the EU and the developing world.
Sinn Féin has already outlined to the Irish Government and to Nicholas Sarkozy what a new Treaty deal must contain:
•    Retention of a permanent commissioner
•    Retention of our existing voting strength at council
•    Removal of all self amending clauses including Article 48
•    Return or strengthening of key vetoes on public services, taxation and international trade
•    Vetoes on all aspects of common foreign and defence policies
•    A protocol on neutrality
•    New measures to protect workers' rights
•    New measures to protect public services
•    Measures to promote fair trade".
An Phoblacht Magazine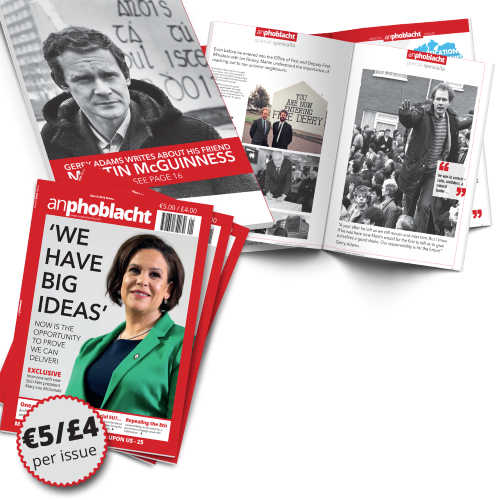 AN PHOBLACHT MAGAZINE:
The first edition of this new magazine will feature a 10 page special on the life and legacy of our leader Martin McGuinness to mark the first anniversary of his untimely passing.
It will include a personal reminiscence by Gerry Adams and contributions from the McGuinness family.
There will also be an exclusive interview with our new Uachtarán Mary Lou McDonald.
test