17 July 2008 Edition
Fifth Column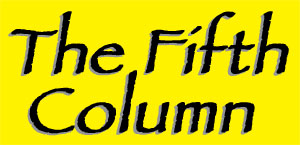 Stamp of approval
AN POST has issued a series of new stamps in film reel style celebrating Irish movie hits, including Garage, Kings and Cré na Cille.
There's also one for The Wind That Shakes the Barley, the action adventure about the Tan War and Civil War IRA.
It wouldn't have happened in the days when the viciously anti-republican Labour Party veteran, Conor Cruise O'Brien, was Minister for Posts and Telegraphs.
The Cruiser – who went on to join the United Kingdom Unionist Party before rejoining Labour – enthusiastically enforced state censorship of radio and television through Section 31 of the Broadcasting Act, banning any republican or other radical nationalist voices from being heard. Gardeners who were coincidentally members of Sinn Féin were even barred from talking on RTÉ about their prize-winning begonias, so all-embracing was Section 31 in the 1970s and 1980s.
On top of that, the Cruiser (who should have been busy sorting out the state's ramshackle postal and phone service) spent his days in the 1970s poring over the letters pages of the daily newspapers, feverishly snipping out letters supportive of nationalists in the North or critical of the government in the South. This was a minister, remember – J Edgar Hoover, eat your heart out.
Maybe republicans should buy the Wind That Shakes the Barley stamp to put on postcards marking the anniversary in January 1994 of the ending of the Section 31 state censorship. Send them to Conor Cruise O'Brien, Howth Labour Party, C/o 17 Ely Place, Dublin 2.


Star Trek's Section 31
INTERESTINGLY, while trawling the web to refresh my memory about the Cruiser's reign of censorship, I came across a reference to Section 31 in Star Trek, no less.
Chucky Trekky fans will know that Section 31 is the name of an unofficial intelligence organisation which is, according to Wikipedia, "not subject to the normal constraints of Starfleet ethical protocols". Just like the regime of minister Cruiser and his successor, the corrupt Ray 'Backhander' Burke.


Body politic shock
THE world of British politics has been stunned by the news that one of its most self-professed "serious" politicians has resigned after her second by-election humiliation. Readers of 'lads' mag' Zoo, though, will be delighted to hear that Miss Great Britain, Belfast 'babe' Gemma Garrett, has given up trying to win a seat in Westminster and will, instead, concentrating on maximising her assets – parading her talents in a swimsuit and... er, that's it.
In last week's Haltemprice and Howden by-election, she came fifth, ahead of the Monster Raving Loonies but behind the neo-Nazi National Front. The only major party contesting was the Conservative Party, with part-time SAS man David Davis resigning and retaining his seat.
After two by-elections, Gemma (26) has thrown in the towel because campaigning for high office is not the life for a beauty queen.
"To be honest with you, it's just too hard work," Gemma almost tearfully wept.
"The most stressful thing was campaigning for 15 hours a day, always having to look your best for interviews," she explained (Boris Johnson knows just how you feel, Gemma). "And taking all the bad press and people calling you a bimbo" (Boris Johnson knows just how you feel, Gemma).
But even though she's going back to the less stressful day job of looking glamorous, her passion for politics hasn't dimmed.
"I'm still going to voice my opinion on issues but just not through the political route." Probably through Nuts and Zoo then.



Brought to book
NEW DUP Environment Minister Sammy Wilson has revealed his holiday reading fare to the Irish News.
Petrol-head Sammy, the Assembly's answer to Jeremy Clarkson, believes that all this climate change stuff is a load of old codology conjured up by muesli-munching hippies and liberals. So Sammy will be reading Scared to Death: From BSE to Global Warming, Why Scares Are Costing Us the Earth, by Christopher Booker; and Unstoppable Global Warming: Every 1,500 Years, by Dennis T Avery and S Fred Singer.
For Christmas Sammy will probably be reading Heal Thyself, Serf: An Apothecary's Manual on Blood-Letting with Leeches, and Mind How You Go: The DUP Motorcycle Club's Guide to the Flat Earth.


Tan lover in Cork
THIS letter appeared in Tuesday's Irish Independent from a Mr Robert O'Sullivan in Bantry, County Cork.
"Despite the terrible weather, Mary Lou McDonald is managing to sport a lovely tan. I'm having to go around all pasty white — where could I buy something like Mary Lou's is what I'd like to know?"
Just what else Mr O'Sullivan and the Letters Editor in the Indo spend the rest of their day doing apart from envying Mary Lou's "lovely tan" is anyone's guess.

An Phoblacht Magazine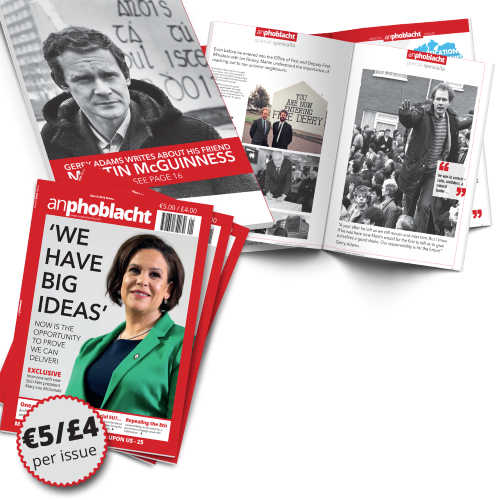 AN PHOBLACHT MAGAZINE:
The first edition of this new magazine will feature a 10 page special on the life and legacy of our leader Martin McGuinness to mark the first anniversary of his untimely passing.
It will include a personal reminiscence by Gerry Adams and contributions from the McGuinness family.
There will also be an exclusive interview with our new Uachtarán Mary Lou McDonald.
test