17 July 2008 Edition
Media coverage of the Twelfth unbalanced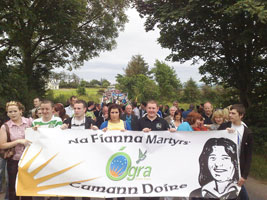 MEDIA outlets in the North have been criticised over coverage of the Orange Twelfth of July marches. Ógra Shinn Féin activist Councillor Johnny McGibbon has questioned why similar television coverage is not afforded, particularly on BBC and UTV, for the annual 1916 Easter Commemorations.
"Both BBC and UTV aired a dedicated 30 minute programme of the orange order parades throughout the north, spending considerable time, effort and resources to promote the 12th July parades.
"There is no similar practice by the BBC and UTV to cater for their republican and nationalist audience, by covering the annual Easter 1916 Commemorations which take place annually across Ireland, including the North, McGibbon said.
"With the signing of the Good Friday Agreement, a flourishing Peace Process and republican's in government in the assembly; it is an absurdity that our rights, and history are being ignored by these media bodies."
"In the year ahead Ógra Shinn Féin intend to lobby and campaign to ensure that next year's Easter 1916 Commemorations are afforded the proper media coverage which they deserve. Our rights and our history will not be ignored."