17 July 2008 Edition
Aussie attractions

I will pass over the egregious attack upon my person in last week's letters page other than to say that apart from a bottle of stout at Christmas or a special occasion that strong drink does not pass my lips. Anyway if the shameless Gael thinks he can better report 'Our Games' then perhaps the Editor might allow him an opportunity to do so while I am on holidays?
That's if there's anyone left playing them by then. Well perhaps not this year, but there are increasing fears that the intensified scouting and recruiting campaign on behalf of the Australian Football League will entice more young gaelic footballers to follow the likes of Setanta Ó hAilpín and Tadhg Kenneally to try their luck Down Under.
Martin McHugh has estimated that up to 100 players may leave this year and given that a good proportion of them are aspirant or even current county panel members that would obviously have malign implications for the game here. McHugh and others have reacted to the recruitment drive by urging the GAA to cut all ties with the AFL through the Compromise Rules. Something that many of us have argued should be done anyway purely on the awfulness of the whole thing.
It is clearly another matter to prevent young players exercising their right to leave. I don't think anyone other than admirers of countries that refuse to allow their citizens to go abroad because they are so happy serving some nepotistic dictatorship would advocate that a person should not be let exercise that choice. It is quite another thing, however, to facilitate the Aussies by allowing them to use GAA grounds for trials or otherwise access players through the GAA. But if they approach a player and offer him tempting terms to play their game then that's his business.
The Aussies, meanwhile, have upped the ante by announcing that they are considering establishing a new AFL club to be called the Sydney Celtics which would target the allegiances of the Irish diaspora there, be a magnet for Irish born players and perhaps even become popular in this country. One thing you have to say for them is that they don't allow the grass to grow under their feet. Unlike the GAA perhaps which was urged a few years ago by Mickey Harte to promote gaelic football in Australia and internationally rather than continue with the farcical Rules series and open the door for the very thing that is happening now.
On the face of it McHugh's call for a complete break, while understandable, is  missing the point as recruitment has actually increased since the formal suspension of the Rules series two years ago. Indeed there are those within the GAA who argue that at least if there is a formal  relationship with the AFL that they will be bound by some code of honour that might regulate their poaching of young players. One suspects that codes of honour are little regarded in certain quarters somehow or other.
Besides that, the Aussies don't need the international series to spot potential recruits. Indeed they don't even need county games because the players they are targeting are increasingly young and are being scouted in their clubs at grades as young as under 14. So it is the clubs that are the primary losers and the argument is that having nurtured young players perhaps from as young as six or seven years of age that it is they who are getting the raw deal.
Various suggestions have been made as well as to how best to counter the financial attractions of moving. Scholarships being one. But that is perhaps missing the point. The initial signing fee for most players contracted to AFL clubs is small and only a minority of those who go are already senior county players and are thus 'unproven' and therefore carry little market value. And of course there is no guarantee that if you do go you will actually make the grade over there. Much like the many young Irish lads who still go to play soccer in Britain, only a small number will become established professionals and British soccer is a far bigger and lucrative pool than the AFL.
The great attraction is the adventure and the chance that maybe you will be one of those to make the breakthrough and become the next Jim Stynes or Setanta. Hard to blame any young fella, or their family, for jumping at the chance and the attraction will increase with the onset of recession here. Stay here, study while playing football for nothing and then maybe have no job at the end of it. Or seize the day? Which of us would not choose the latter?
Which leaves me with little space to discuss actual 'our games' I am afraid. Other than to say that last weekend bolstered the argument that perhaps Offaly, Wexford and Dublin be allowed enter the Munster hurling championship in order to boost their chances and maybe raise standards. At the very least the results undermined some of the more extreme claims regarding the demise of Leinster hurling. Just wait until the Cats get hold of ye!
Tipperary shaped like a team that might give the Cats a run for their money but how good were Clare given what Offaly did to Limerick? What Tipp have done is restore their self belief and historic esprit de corps following the departure of the much loved Babs.
Finally on Sunday, Wexford have the opportunity to win their first Leinster football title since 1945 and Fermanagh their opportunity to take their first ever Ulster. In normal circumstances I would love to see both but I'm afraid this jackeen guttersnipe will be hoping to see Dublin win their 48th Leinster and fourth in a row.
So one shock will do thanks very much, and it can be in Clones. Take 9/4.
An Phoblacht Magazine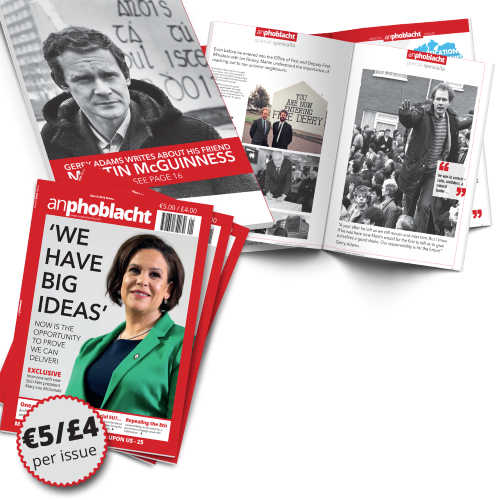 AN PHOBLACHT MAGAZINE:
The first edition of this new magazine will feature a 10 page special on the life and legacy of our leader Martin McGuinness to mark the first anniversary of his untimely passing.
It will include a personal reminiscence by Gerry Adams and contributions from the McGuinness family.
There will also be an exclusive interview with our new Uachtarán Mary Lou McDonald.
test