17 July 2008 Edition
The sound of Celtic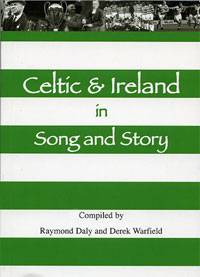 BOOK REVIEW
Celtic & Ireland in Song and Story
Compiled by Raymond Daly & Derek WarfieldReviewed by TOF c/o Naomh Padraig CSC, Dublin
www.celticsongbook.com
Some years back, I took a phone call in my office from a man called Raymond Daly from Tullamore in County Offaly.
Raymond, who I had never met before, told me of his grandiose plan to put together a book of songs relating to The Celtic Football Club. Slightly cynical, as I had heard all sorts of weird and wonderful ideas relating to Celtic down through my many years of supporting The Bhoys, I wished him luck and promised to help in anyway I possibly could.
Raymond, however, was unlike the purveyors of all these other fanciful notions. His motivation was simply his burning belief that there was a musical story to be told about a special football club and its unique relationship to Ireland.
He sought out many of the musicians whose work had been mimicked wherever Celtic fans gathered. His search was fruitful but was particularly rewarding when he came across Derek Warfield, the founder of the legendary Wolfe Tones and the heartbeat of the group for decades. Derek was harbouring similar ideas for a book and, really, they were fated to meet.
Their combined effort has produced much more than a mere songbook. More an historical and social study of Ireland, her music and the football club she gave birth to. Between its covers, in almost 500 packed pages, is a lovingly compiled analysis of the characters, places and events that are honoured, revered and remembered in the words of over 80 ballads. Added to that there is a warm look at the men and bands who gave us many of the songs and tunes.
This is an encyclopaedic look at Irish history, Celtic football folklore and is probably the first real study of the musicians and bands responsible for some of the melodic masterpieces people have enjoyed time and again for generations.
When one considers the role of music and song in Irish society, and by extension in the history of The Celtic Football Club and the Irish Diaspora, the story of those songs has been much under analysed subject. That is, until now.
Many of the songs of Ireland are inextricably linked to the story of Celtic Football Club, a club born in poverty and fathered by the famine, its fight to survive and its rise to become one of the world's great footballing institutions. Several have become firm favourites wherever the clubs supporters come together. From lullabies to battlecries, from Tone and Emmett to Sands and McElwee.
Daly and Warfield have created the definitive work on the songs and events that bind Celtic Football Club to its spiritual homeland.
This really is a masterpiece no one with any interest in Ireland's history nor any fan of Celtic Football Club or lover of Irish music should be without.
This book is available from the Sinn Féin Bookshop,
58 Parnell Square, Dublin 1. Tel:  (353 1) 8148542. 
www.sinnfeinbookshop.com
An Phoblacht Magazine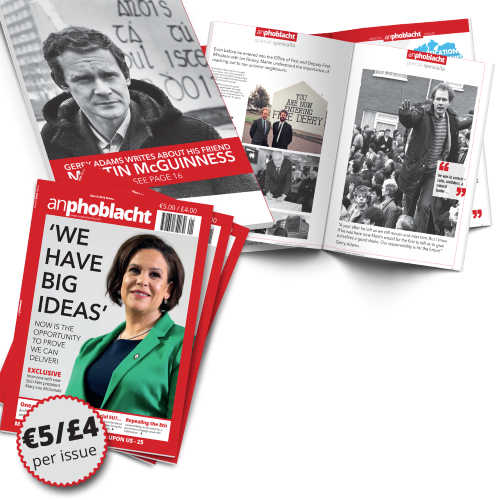 AN PHOBLACHT MAGAZINE:
The first edition of this new magazine will feature a 10 page special on the life and legacy of our leader Martin McGuinness to mark the first anniversary of his untimely passing.
It will include a personal reminiscence by Gerry Adams and contributions from the McGuinness family.
There will also be an exclusive interview with our new Uachtarán Mary Lou McDonald.
test