10 July 2008 Edition
Are Kerry the new Dublin?

ARE Kerry the new Dublin? Has mastery of the art of surrendering seemingly unassailable leads been passed on to the Kingdom?
I ask this with no sense of malice and purely on the basis of Kerry's extraordinary collapses in both the league final against Derry and, even more notably, last Sunday in Cork. Dublin supporters have almost come to expect that a seven or eight point lead will be squandered, or at the very least put in mortal jeopardy, but it is not something you expect from Kerry.
The most famous, indeed possibly the only, instance of it happening in a Dublin-Kerry match was back in 1963 when Dublin came back from being 11 points down at half-time to win with a last-minute goal from Lar Foley in the Grounds tournament semi-final.
But in general it is almost axiomatic that Kerry do not surrender a comfortable lead. So what has gone wrong?
The reigning champions and aspirant three-in-a-row team are beginning to exhibit feet of clay. As with Tyrone in 2006, they are starting to fray at the edges and a combination of some key players possibly gone past their best, injuries to others and suspensions are placing increasing strain on their resources – resources which, if they are to win the All-Ireland again, need to be carefully husbanded and finely tuned. They certainly do not need the sort of problems they have now in early July.
On the other hand, they did lose the Munster final to Cork in 2006 and emerged a sharper team in the qualifiers, and it was only after beating Armagh in the quarter-final that people began to regard them as the team most likely to win the title. The difference between then and now is more miles on the clock and seemingly little scope for either the sort of tactical innovation or new blood that arrived with Kieran Donaghy.
There is also the fact that the exclusion of the eight Division Four teams means that the chances of getting a handy draw in the qualifiers are considerably reduced. As things stand, Monaghan, Derry, Tyrone, Donegal, Westmeath, Meath, Laois and Down are in the qualifiers and that is only to mention the better sides.
From the 16 there now, four will emerge to play Kerry, Galway/Mayo, Dublin/Wexford/ and Armagh/Fermanagh. One thing is for certain the matches to decide who gets to the quarter-finals will not be easily won. That places the provincial winners in pole position.
Kerry are certainly capable of regrouping and in any event would not be anywhere near their peak at this stage. Ideally, they would have liked to have overcome Cork in second gear and then had a month to prepare for the quarter-finals. No such luxury beckons now and the road to September has become longer and harder but they still remain the team most likely to be standing at the end.
IRONICALLY, some of what we were talking about last week in relation to blanket defence came sharply under focus as well.
Cork began the game with Graham Canty playing in front of Kieran Donaghy in an effort to curb the threat posed by the long ball. It didn't work. Donaghy won the majority of the ball sent his way and created the goal for Donncha Walsh.
At the other end of the field, the Cork forwards were constantly swallowed up by the Kerry backs and when they did get a chance they mostly missed. Although, in retrospect, perhaps the fact they were getting so many chances might have been noted.
The blanket and the slow build-up was dispensed with at half-time and Cork sprung Michael Cussen from the bench in what proved to be the crucial move of the afternoon. From then on, Cork proceeded to do to Kerry what Kerry had done to Armagh two years ago. The way to penetrate the blanket is to pump high ball into a towering full-forward. It has worked for Kerry and it worked for Cork.
Easier said than done, of course, and it does rely on actually having the ball to supply in the first instance. That was the crucial difference in the second half as Cork dominated midfield even after Nicholas Murphy who had been hovering around that region was sent off.
Pierce O'Neill got the better of Dara O'Shea, who was clearly, and not for the first time, giving signs that he is no longer the powerhouse he was and possibly no longer capable of a full game at full pelt. Himself and O'Neill's private battle eventually ended with Dara being shown the line for a second yellow, followed shortly after that by brother Marc who was arguably a bit unfortunate (or not, depending on how good a view you had and your own bias).
Cork's centre-field dominance meant that the Gooch and Donaghy were like Japanese soldiers on a Pacific island in 1945 waiting for supplies and reinforcements that were finding it difficult to take off under enemy bombardment.
For periods against Monaghan and Dublin last year, Kerry were under similar constraint but eked enough out in the end to come through. Against Derry and Cork this year they have been over-run and have had no answer.
You would expect that they will improve but other teams have been watching and will be eager to put whatever lessons they think were garnered into effect. Winning the three in a row was never going to be easy but it just became that bit more difficult.
An Phoblacht Magazine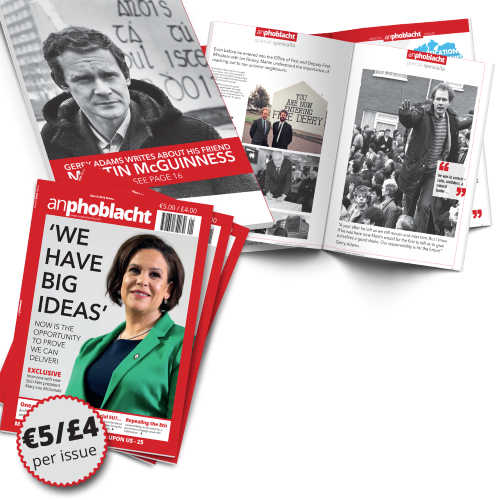 AN PHOBLACHT MAGAZINE:
The first edition of this new magazine will feature a 10 page special on the life and legacy of our leader Martin McGuinness to mark the first anniversary of his untimely passing.
It will include a personal reminiscence by Gerry Adams and contributions from the McGuinness family.
There will also be an exclusive interview with our new Uachtarán Mary Lou McDonald.
test