10 July 2008 Edition
Will vulnerable pay price for Government's economic mismanagement?
Despite this week's announcements of plans to save money, we will have to wait until December's budget to see exactly how Brian Cowen's government intends to deal with the current huge revenue shortfall. But there is a growing fear that the elderly, disadvantaged and people with disabilities will pay the price for the government's mismanagement of the public finances.   
If the Fianna Fáil-led government had acted differently over the past few years it could have minimised the current negative effects on Ireland of a global economic downturn. Since the start of this decade economic growth has been driven by consumer spending rather than by export growth, a fact that the government has failed to address.  As the measures announced this week testify, wastage and inefficiencies were normal practice in respect of how public money was spent. That the Government is only now proposing to deal with the costs of tribunals, unnecessary use of consultants and PR companies is a disgrace.  There should be no room for wastage either in times of recession or boom.
In addition, a huge amount of money has been misspent in recent years on tax breaks for the wealthy. These made some people obnoxiously rich but had little social or economic value and fuelled the economy's  over-dependence on the property sector.
The money wasted over a decade of economic boom should have been used to deliver improvements to school buildings, hospitals, social housing and public transport.  
Over the last decade Fianna Fáil-led governments cut income and other taxes to levels which are not sustainable allowing the Exchequer to become precariously over-dependent on revenue related to construction and consumption.
This is the reason the 26 Counties has seen a collapse in public finances to an extent not seen in any other European country. It ignored warnings that revenue from construction and consumption was wide open to fluctuation and that revenue from an over-inflated property sector was unsustainable.
The Government is approaching the current problems in a short-sighted way.  It appears the only option under consideration is cutbacks in public spending.  Assertions that the most vulnerable will not bear the brunt of such cuts are not credible.  Experience tells us otherwise.   
The proposed cuts are a betrayal of the electorate who voted for the government parties who promised an improved health service. They also expose the gross mismanagement of our public health service by a Government which prefers to subsidise the private healthcare business.
What is urgently needed in the short term are measures to stabilise the economy. We need a medium-term recovery plan including steps to regain competitiveness and upskill workers.  We also need to start planning now for a longer term re-orientation of the economy which ensures that in future it is built on solid foundations and that future economic prosperity is used to eliminate inequality.
An Phoblacht Magazine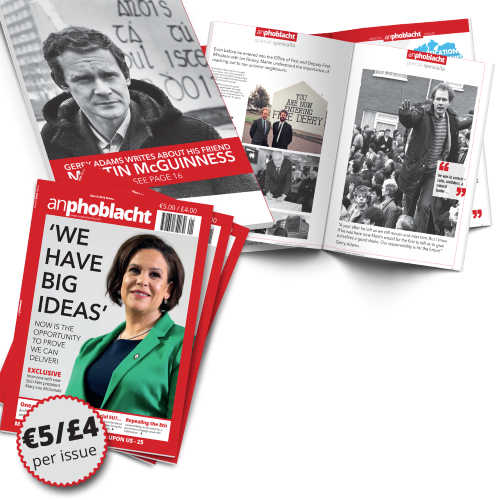 AN PHOBLACHT MAGAZINE:
The first edition of this new magazine will feature a 10 page special on the life and legacy of our leader Martin McGuinness to mark the first anniversary of his untimely passing.
It will include a personal reminiscence by Gerry Adams and contributions from the McGuinness family.
There will also be an exclusive interview with our new Uachtarán Mary Lou McDonald.
test