3 July 2008 Edition
Common Fisheries Policy must be renegotiated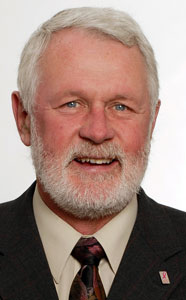 MARTIN FERRIS has called for a fundamental renegotiation of the Common Fisheries Policy and its effects on the Irish fishing industry. The North Kerry TD was speaking in the Dáil on his proposed amendment to a Fine Gael Private Member's Motion on Irish fisheries.
Ferris said he'd tabled his amendment as neither the original motion nor a Government amendment, for all their good intentions, address the basis and core problems facing Irish fishermen.
The Kerry North TD said that fundamental to that is the Common Fisheries Policy (CFP), which has been the bedrock of the disastrous mismanagement of Irish fishing the 26 Counties joined the EU.
"Unless and until an Irish government reverses the shameful sell-out made at that time, we will be merely tinkering around and allowing Brussels to engineer the effective liquidation of the Irish fishing sector. And yet there seems to be little political will here to demand a radical overhaul of the Common Fisheries Policy."
He said the overall impression is of the state constantly having to fight a rearguard action to preserve whatever crumbs are thrown its way.
"That in itself is reason enough, as one of the significant stakeholders in the sector, to demand that the policy is reformed in such a way to ensure that the interests of Irish fishermen are protected and enhanced."
Ferris told TDs that the harm done by the CFP is generally recognised. In 2002, the review group which reported to the Forum on Europe referred to the "inequalities and injustices" inherent in the CFP. He said that perhaps it best summed up the situation when it declared that "Ireland has only a small piece of its own cake". The Sinn Féin TD continued:
"Had our fisheries been properly managed and developed under domestic control they might have become a valuable resource that could have played a vital role in the economic development of the country. Instead, the Irish fishery was squandered and is in mortal danger, not only due to current pressures such as those brought about by the steep increase in fuel prices but by the overall thrust of EU policy which many believe, and with justification, is deliberately designed to reduce the Irish fishing sector to insignificance."
Ferris ended by urging deputies to support his amendment as incorporating the best way of tackling the crisis facing the Irish fishing sector, "beginning fundamentally with a renegotiation of the Common Fisheries Policy as it affects our fisheries".