3 July 2008 Edition
Arrest sparks new call for release of Loughinisland report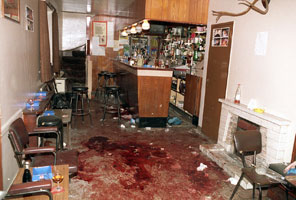 A MAN has been arrested in England in connection with the unionist paramilitary massacre at The Heights Bar in Loughinisland, County Down, in 1994, in which six people were killed by the UVF while watching the Ireland v Italy World Cup match.
The 45-year-old man – arrested at Maidstone in Kent on Monday – was also being questioned by the PSNI in Antrim about the attempted murder of five other people in the bar, locally known as O'Toole's.
The six victims at Loughinisland were Adrian Rogan (34); Eamon Byrne (39); his brother-in-law, Patsy O'Hare (35); Dan McCreanor (59); Barney Green (87); and Malcolm Jenkinson (54). They came from Loughinisland, Ballynahinch, Drumaness, and Downpatrick.
It was reported at the time that the loyalist killers locked their victims in the bar, walking among them and shot each between two and five times before running out of bullets.
In 2006, the families of the victims formally complained through their solicitors to Police Ombudsman Nuala O'Loan about serious flaws in the murder investigation, including the manner in which evidence seized at the time was handled. In particular, they questioned why the getaway car used in the murder was "wilfully destroyed by police".
Speaking after the arrest of the Loughinisland suspect, Caitríona Ruane, Sinn Féin Minister in the North's Assembly and an MLA for South Down, said the Ombudsman's report into the killings must be published immediately.
"The families who lost loved ones in The Heights Bar in Loughinisland, are determined to find the truth behind this terrible atrocity and the Ombudsman's investigation into the people who organised and carried out this shooting must be published.
"The families have, for many years, courageously campaigned for the truth behind the death of their loved ones and they have waited long enough for this investigation to be completed.
"It remains to be seen how significant today's arrest will be in the overall context of the investigation. This case needs to be thoroughly examined in order to find out the role of police informers in what was a terrible outrage. Not least there must also be full disclosure into the failure of the RUC to properly investigate what happened and bring the killers before the courts."