3 July 2008 Edition
Coleraine unionism: living in the 1980s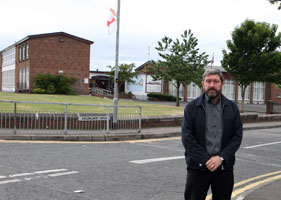 WHEN President Mary McAleese visited the Protestant Millburn Primary School in Coleraine, County Derry, three weeks ago, she was subjected to sectarian abuse by a mob of 30 to 40 screaming loyalists.
After Sinn Féin Education Minister Catríona Ruane was at the school last year, loyalists were accused of several break-ins.
Sinn Féin's BILLY LEONARD, who sits on Coleraine Borough Council, invited An Phoblacht's PEADAR WHELAN to Coleraine to discuss the repercussions of the McAleese visit as a symptom and the tacit if not explicit support by "political unionism" for bigots opposing reconciliation.
AS PRESIDENT Mary McAleese and her husband arrived at Millburn Primary School to see the school's innovative early learning teaching techniques imported from Finland, loyalists waving Union Jack flags shouted, "F**k off home, republican scum," "Fenian bastards" and "No surrender."
According to the protesters, President McAleese was not welcome in loyalist Coleraine because, in an interview in 2005 reflecting on the Holocaust, she suggested that some unionists have acted similarly to Nazis in bringing their children up to hate Catholics, just as Nazis promoted a hatred of Jews.
Mrs McAleese later apologised for those remarks.
The principal of Millburn Primary School, John Platt, said there had been intimidation to try and prevent the visit going ahead. The protesters, he said, "are living in the 1980s".
"They are not prepared to make any change and they want everything done their way.
And he refuted claims that parents were not consulted about the McAleese visit.
"As is normal before we make any decision about the school, we sent out a questionnaire to parents to ask them their opinion about a possible visit by the President and over 93 per cent agreed with it. Only 14 parents disagreed with the visit."
As I drive through the town with Sinn Féin Councillor Billy Leonard, he says:
"Loyalism and unionism in Coleraine will be the last to change."
'Political unionism,' he explains, is playing a part in the reactionary attitude.
The DUP MP for the area, Gregory Campbell, refused to condemn the loyalists hurling sectarian abuse outside a primary school. He suggested that Mrs McAleese herself was the problem as her visits to the North had been "subject to controversy in the past".
MEP Jim Allister, the former DUP member who broke away to set up his own party, Traditional Unionist Voice, maintained that the protesters had done, "no harm" before adding:
"It's a pity we don't have a government capable or willing to put Mrs McAleese in her place – then street protests would be unnecessary."
Leonard, the sole Sinn Féin councillor on Coleraine Council, blames political unionism in the East Derry constituency for failing to give leadership to their communities.
"Loyalist parmilitaries, particularly the UDA, control the big housing estates in Coleraine. They run protection rackets and peddle drugs.
"John Platt is right on at least one level: these loyalists are living in the past, but the fact remains that their power and influence remains. Some unionist politicians are ignoring the sectarian elephant in the room while others are feeding it.
So, as the 'marching season' draws closer, the sectarian tensions associated with the Twelfth heighten.
On our tour around the Harpur's Hill and Ballysally areas, both large estates with a reputation for loyalist activity, the myriad flags, loyalist murals and the bonfire sites are echoing Billy Leonard's sentiment that Coleraine loyalism will be the last to change.
In Harpur's Hill, above the shops, there is a UDA mural commemorating UDA bomber William Campbell.
Campbell died on 3 January 2002 when the bomb he was carrying exploded prematurely, killing him instantly.
In the previous year, loyalist death squads, primarily the UDA, had launched numerous gun and bomb attacks on the homes of vulnerable Catholics throughout Coleraine and across the north Derry and north Antrim coast area.
Entire families, pensioners, GAA halls and Catholic churches and schools were targeted in the wave of attacks.
In one of the most publicised incidents, the Red Hand Defenders – a cover name for the UDA – claimed reponsibility for planting a massive car-bomb in Ballycastle during the Auld Lammas Fair, Ireland's oldest traditional market and attracting thousands of families.
Weeks later, loyalists left an explosive device in the Anchor Bar in Portstewart. The no-warning bomb failed to explode.
The indiscriminate nature of the loyalist campaign was highlighted when, on Sunday 7 October 2001, a seven-year-old boy picked up a device he found in the grounds of Swatragh GAA Club. The boy was spotted toying with the bomb as a match between Swatragh and Glenullin was being played.
Bomb attacks on GAA facilities were a common feature of the loyalist campaign against nationalists in the area at that time and most were claimed by the Red Hand Defenders as a flag of convenience for the UDA.
Loyalist activity in the area continued unabated and unhindered. The RUC and the newly-emerging PSNI seemed to be turning a blind eye to what was going on in an area controlled by the UDA's North Antrim and Derry Brigade.
"In recent times," says Leonard, "the loyalist activity has been more muted but nonetheless sinister. Small rural communities in Boveedy and Drumsurn have seen loyalist and fascist graffiti plastered on walls.
"In Boveedy, near Coleraine, 'No Taig Buyers' has been scrawled on walls and hoardings in an attempt to intimidate Catholics who might want to move to the area.
"Also, the racist nature of loyalism has emerged, particularly in Portballintrae where a well-known loyalist leader was seen distributing British National Party literature.
"We can only assume that this daylight distribution of leaflets was intended as a message to migrant workers who undoubtedly would have received a copy through their letter boxes.
"This leafleting was carried out at the end of May and just a week afterwards the car belonging to a Bulgarian family was burnt out in the village," Leonard points out, "so obviously the threat implied in the leaflet is being underlined by actual violence".
As we drive away from the bonfire site in the notorious Ballysally Estate, Billy Leonard expresses his hope, despite the outward signs of 'Twelfth madness normality' with the the proliferation of flags and bonfires, that Catholics in Coleraine will have a quiet summer.
"Maybe some unionist supporters will see that this sort of coat-trailing is offensive and threatening. Unfortunately, until there is the political will within political unionsm to move forward in the Coleraine area, then paramilitary unionism will stay locked in its sectarian past."