3 July 2008 Edition
No rationale for parade on Garvaghy Road, Adams tells Orange Order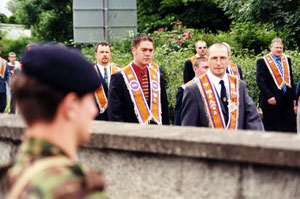 THE NEWS this week that Gerry Adams has met with representatives of Portadown Orangemen about Garvaghy Road last week comes after repeated requests by the Sinn Féin leader for such a face-to-face meeting.
News of the meeting emerged on Wednesday, 25 June, just 24 hours before the Parades Commission issued its determination to again ban the annual Drumcree march from returning to Portadown town centre along the Garvaghy Road.
Confirming that the meeting had indeed taken place, Adams said:
"It is and always has been the Sinn Féin position that the issue of parading can only be resolved through dialogue between the loyal orders and local communities.
"For a number of years I have written to the Orange Order, offering dialogue around the issue of contentious parades. Recently, representatives of the Portadown Orange Order sought to meet with me. I met with the delegation last week. We had an informative and useful discussion about Orangeism and its place in modern Ireland.
"I also made it clear to them that it was our firm view that there is no rationale for an Orange parade along the Garvaghy Road. Furthermore, I urged them to involve themselves in a process of inclusive dialogue with the representatives of the Garvaghy Road community."
In the wake of the disclosure, SDLP spokesperson Upper Bann MLA Dolores Kelly accused Sinn Féin of going behind the backs of Garvaghy Road residents.
She maintained that residents were concerned "they may be bought and sold as the price for some kind of wider political fix".
But Sinn Féin MLA John O'Dowd, who represents the Portadown area in the Assembly, answered the SDLP claim:
"Sinn Féin was quite clear in stating to the Orange Order delegation that there is no need for a return parade through Garvaghy Road.
"Indeed, Sinn Féin ensured that both the Drumcree and Ormeau Road parades remained outside the remit of the Strategic Review of Parading chaired by Lord Ashdown."
WHITEROCK PARADE
Meanwhile, Seán Murray, who sits on the Strategic Review of Parading Body, has criticised the Parades Commission over its handling of last Saturday's Whiterock Parade.
According to Murray, who acts as spokesperson for the Springfield Residents' Action Group, (SRAG) the Commission "refused nationalist residents the right to hold a protest outside their homes along the route of the parade yet permitted loyalists to come on to the Springfield Road to stage their protest".
Murray was also critical of the Orange Order over its refusal to engage in meaningful talks with residents
"Every year, residents have to put up with an unwanted parade and the fear and tension that goes with it. Each year the Orange Order refuses to talk to the people who live on this road. They ask for respect for their tradition – well, where is the respect for the nationalists who live along the route of this march?"