26 June 2008 Edition
BODENSTOWN : Wolfe Tone Commemoration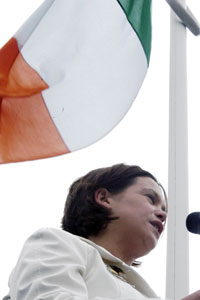 Facing forward with confidence 
REPUBLICANS from all parts of Ireland and abroad gathered in the County Kildare village of Sallins in County Kildare last Sunday for the annual Wolfe Tone Commemoration.
Defying the inclement weather, a parade featuring marching bands and banners representing Sinn Féin cumainn throughout Ireland made its way from Sallins to Bodenstown Churchyard.
A talking point among some of the participants was the dramatic redevelopment of a significant section of the route. Some marchers were taken aback at the changes, including road-widening, to what has for so long been such a familiar and quiet country road traversed for many years in the annual pilgrimage to the final resting place of Theobald Wole Tone, the father of Irish republicanism.

Following an introduction by Francie Molloy MLA, of the National Commemoration Committee, proceedings at Bodenstown were chaired by Sinn Féin Foyle MLA Martina Anderson.
After the playing of The Last Post by a young bugler, Aoife Comiskey, a wreath was laid by Sinn Féin General Secretary Rita O'Hare.
The main address to the 2008 commemoration was delivered by Sinn Féin MEP for Dublin, Mary Lou McDonald, who replaced the advertised speaker, Martin Ferris TD, who was ill on the day. Below we reprint the speech in full.
Ireland's struggle for freedom has produced many heroes, people of enormous courage and self-sacrifice who were and are prepared to give everything in the cause of Irish freedom.
Two hundred years ago, in the late 18th century, fired by the example of the American and French revolutions, Irish Presbyterians and members of the Church of Ireland, stood side by side with their Catholic neighbours seeking redress for the discrimination and injustices they endured.
Ina measc siúd bhí Wolfe Tone, Henry Joy McCracken, Mary Anne McCracken, Anne Devlin agus Robert Emmet – fir agus mná, a chloí le fís de neamhspleáchas nahÉireann agus Éire saor ón Bhreatain. Bhunaigh na daoine seo na hÉireannaigh Aontaithe
As we honour the men and women of 1798, let us also remember all of those republicans who in this and previous generations gave their lives for Irish freedom.
When we gathered here at Bodenstown last year, the new Executive in the North was only up and running. In the South, Fianna Fáil and Bertie Ahern were basking in the glory of an election victory.
Who would have predicted then the political landscape we find ourselves in now? Both Ian Paisley and Bertie Ahern have gone; the people have rejected the Lisbon Treaty; our own party has undergone a significant reorganisation and renewal; and republicans are facing forward with confidence.
And I say this to illustrate the point that politics is fluid. Struggle is fluid. And we must be about always being ready to adapt to the new circumstances and realities we face.
In the Six Counties, the institutions of the Good Friday Agreement – the Assembly, Executive and all-Ireland bodies – are up and running and finally delivering for people across the island.
But there are difficulties to address and nobody should seek to minimise these or ignore them. The devolution of policing and justice powers away from Whitehall and into the hands of Irish political leaders is not an optional extra for the DUP. It is part of an agreement made between all of the parties and the two governments.
We have recently entered into a negotiation with the DUP and the two governments. We do not envisage this being a long process. The outstanding issues from St Andrew's, including the Irish Language Act, can be sorted out quickly if Peter Robinson shows the necessary political leadership and resolve.
But let me be very clear. The rights and entitlements of citizens cannot and will not be subject to the whims of the most right-wing or reactionary voice within political unionism.
We will simply not allow it.
Ach 'sé seo an cás dúinne mar phoblachtánaithe, gan trácht ar cibé rud a thagann as an bhabhta idirbheartaíochta seo: Má tá bua i ndán dúinn, má tá muid chun críoch cheart a chur le próiseas na síochána agus má tá muid chun ardcheannas agus athaontú na hÉireann a chinntiú, beidh orainn ár n-aidhmeanna féin a choinneáil lárnach ar an chlár oibre, agus an clár oibre sin a stiúradh.
But the reality remains for us as republicans, whatever the outcome of this negotiation, if we are to prevail, if the Peace Process is to be successfully concluded and Irish sovereignty and reunification secured, then we have to set the agenda.

Tá Sinn Féin ag obair chun aontú na hÉireann a bhaint amach agus a chinntiú insa tréimshe seo.
We have placed the development of all-Ireland structures and the mandate for reunification at the top of our political agenda. But all nationalist parties, especially the Irish Government, must also fulfil their mandate from the people to work for Irish unity.
By planning for Irish unity, and by demonstrating that unification can lead to a better society for all the people of this island, nationalists will go far towards persuading many unionists that they can have a secure future in a new, united Ireland.
Nationalists throughout Ireland also need to come to terms with the reality that the achievement of our aim of Irish reunification will mean profound change.
The whole political landscape will be transformed. New political alignments will evolve. New island-wide economics will develop. There will be new demands on the economy to meet the needs of a reunited island and people. There will be many challenges but also many opportunities.
Is é an rud is Éireann Aontaithe ann dar le fís Shinn Féin na Poblacht a aithníonn, mar bhunchreideamh, go mbíonn rudaí cosúil le síocháin, slándáil agus gnáthshaol daonlathach an naisiúin, ag brath ar chearta daonna - 'siad sin cearta polaitiúla, eacnamúla, agus sóisialta. Ní fiú faic 'an tsaoirse' dar le Sinn Féin, muna gcuimsíonn sé na cearta seo.
Sinn Féin's vision of a united Ireland is a republic based on the recognition that peace, security and the democratic life of the nation are dependent on human rights – civil, political, economic and social rights. For Sinn Féin, 'freedom' is nothing if it does not embrace these rights. Parity of esteem, equality of treatment and full human rights must be guaranteed for all.
And I am confident that more and more individuals, political parties and civil society groups will join with Sinn Féin to collectively pursue this agenda as the benefits to be accrued by all on this island are demonstrated. The type of society we will have in a united Ireland is already being shaped.
Ten days ago, almost one million people in this state voted 'No' to the Lisbon Treaty.
We have now reached a moment of democratic truth. The actions of the Government on this matter must reflect the clearly expressed will of the people. At present, there is a window of opportunity. The Government can either seize or squander that opportunity. The choice is theirs.
If the political will exists, a better deal can be renegotiated not only for Ireland but for the peoples of Europe. Earlier this week we submitted a set of clear-cut deliverables that could be achieved through renegotiation. We will continue to play a constructive role in the renegotiation process.
In the year ahead we also need to continue building our party. A tremendous amount of work has gone on over the past year restructuring and rebuilding – and I commend those involved in that work. But we have a lot more to do.
Caithfidh muid ullmhú do na comórtais toghcháin atá romhainn. Caithfidh muid ár mealltacht pholaitiúil a leathnú, Caithfidh muid comhaontais a thógáil. Caithfidh muid bheidh gníomhach i ngach paróiste sa tír. Caithfidh muid níos mó daoine a mhealladh le bheith ina mbaill den pháirtí.
We need to prepare for the electoral contests that lie ahead. We need to broaden our political appeal. We need to build alliances. We need to be active in every parish in the country.
We need more people to join our party. I want to make a particular appeal to women to join our party. Ba mhaith liom impí go háirithe ar mhná chun clárú lenar bpáirtí.
This year marks the centenary of the Irish Women's Franchise League which was co-founded by that great Irish republican woman, Hanna Sheehy Skeffington, and which campaigned for women's right to vote. With other women comrades she played a major role in the fight for freedom. Ninety years ago, Irish women had the vote for the first time and they helped to ensure the victory of Sinn Féin in the 1918 general election. Ninety years on, there are still far too few women in elected leadership in our country.
Tá muidinne i Sinn Féin tiomanta chun sin a reiteach. Bigi Linn Shinn Féin. Ní saoirse go saoirse na mban.
We must continue to move forward. We must continue to take risks. We must continue to grow and develop our struggle and ultimately, if we bring together the sum parts of our individual efforts, we will build a national movement for freedom that will become unstoppable. Irish unity is on the political agenda. It is a realisable goal and we are going to achieve it.
Tone himself set out his vision very clearly:
"To assert the independence of their country and their own individual liberties it was necessary to forget all former feuds, to consolidate the entire strength of the whole nation, and to form for the future but one people."
As we go forward from here today, we are under no illusions about the challenges that lie ahead.
But, equally, let no one be under any illusion about the determination and ability of this generation of republicans to meet those challenges head-on and to achieve the reunification of our nation.
An Phoblacht abú, a chairdre. An Phoblacht abú!
South Derry band wins  Trophies
• The annual Bodenstown Bands Competition for the coveted Fergal Caraher and Joe Cahill Trophies and a prize of €300 was won by this year by the South Derry Martyrs Flute Band. The prize was presented to band members Damien McKenna and Sinead Maguire by Fergal's father, PJ Caraher and Annie  Cahill.