12 June 2008 Edition
Downpatrick man targeted by sectarian thugs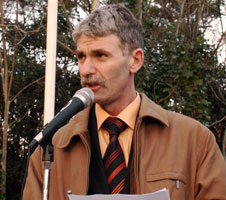 A DOWNPATRICK Catholic targeted by sectarian thugs may be blinded in one eye, according to Sinn Féin Councillor Eamon Mac Con Midhe.
Mac Con Midhe was speaking in the wake of the brutal anti-Catholic attack on Terence McCarthy near Bridge Street in the County Down town on Saturday evening, 7 June.
McCarthy was knocked to ground where he was repeatedly kicked while his attackers chanted: "Fenian Bastard!"
Councillor Eamon Mac Con Midhe said:
"Those responsible have erected a number of sectarian flags and have been hanging around the bottom of Bridge Street late in the evenings for some weeks, fuelled by alcohol, shouting at passersby and trying to incite trouble.
"I call on young people angered by this attack not to allow themselves to be incited into retaliation. Sinn Féin will be raising this matter with the Policing Partnership and we will insist that the PSNI do all within their power to take action against those responsible."
A predominantly nationalist town, unionist residents in Downpatrick are seldom troubled on account of their politics or religion, he said.
"We want to keep it this way but this is made more difficult when incidents of this nature occur.
"Young people must not allow themselves to react to this type of provocation. The solution is to have the attackers identified and brought before the courts in order to protect the general public from this type of vicious assault."
HATE CRIME
Meanwhile, North Antrim Sinn Féin MLA and Policing Board member Daithí McKay has said that the PSNI must do more to tackle sectarian hate crime.
Speaking at the Policing Board on targets set for the PSNI by the Board for 2007/08, McKay said:
"The sanction clearance rate for sectarian hate crime has not improved over the past year and remains significantly below the overall sanction clearance rate of 20.5 per cent. "Indeed, the situation has got worse in the PSNI's rural region which has reduced from a 14.1 per cent clear up of sectarian crime to 10 per cent this year.
"It is to be welcomed that the PSNI in this district has overseen a significant reduction in violent crime and criminal damage but an improvement in the tackling of sectarian crime will be key to instilling confidence in the wider community."
MARCHING SEASON
McKay said that, over recent months, he has raised with senior PSNI officers the need to provide more detailed statistics in regard to sectarian attacks on GAA clubs, church halls and Orange halls and he is glad that this is something that the PSNI has agreed to look at and move forward.
"As we move into another marching season, it is also to be welcomed that the PSNI agreed with our assertion that a code of conduct in regard to parades should be given statutory recognition and a legal standing.
"The Parades Commission continues to issue legal determinations on parades which are unclear and open to different legal interpretation. The commission must be more professional and issue determinations on parades which are clear and unambiguous and therefore more enforceable."