12 June 2008 Edition
Fifth Column
All mouth and no trousers
THE North's new Environment Minister has been unveiled to the public (and not for the first time). It's Sammy Wilson.
Sammy now has a portfolio to hide his public profile which is well known to readers of the Sunday World. A few years back, photographs showing him romping in a forest in France in the nude with a female companion popped up.
Subsequent legal action by Mr Wilson and his companion, a Ms Rivers (Only our Rivers run free?), prevent us from reprinting the offending image of the minister in the buff before he got his new brief.


Sammy takes his seat
WHEN Sammy found his trousers and took his seat in the Assembly, Sinn Féin's Martin McGuinness welcomed him home.
"It is very good to come across someone like Mr Sammy Wilson, whom I have never met, and it is great to see him today with his clothes on," the Derryman chuckled.


Wilson's award
MOTORBIKE maniac Sammy Wilson does have a track record on environmental matters.
The petrolhead opposes an independenet environmental protection agency and he supports nuclear power.
Last year, Young Greens at Queen's University Belfast nominated him for their Green Wash Award for being the MLA most likely to damage the environment.


Trust Charlie McCreevy?
TWENTY-FOUR hours after last week's TNS-MRBI poll on Lisbon Treaty voting intentions rocked the cosy coalition in Government Buildings when the 'No' side swept into the lead, Green Party leader John Gormley went walkabout in Dublin's leafy Terenure suburb to try and convince voters otherwise.
Voters, he said somewhat arrogantly, are "confused when they see two people on a programme – one is saying the Lisbon Treaty is black, the other is saying is white". And voters shouldn't be troubling themselves with such weighty matters, the ever Green leader condescended.
"I would say to voters that they have to take it on trust.
"They're going to have to look at the people who are telling them to vote 'Yes'."
People like Bertie Ahern, Mary Harney and Charlie McCreevy?


Gormley having another laugh?
EVEN the pro-Lisbon editorial in the Irish Daily Star baulked at Gormley's patronising posturing.
"When you hear a politician say, 'Trust me,' it's time to be afraid, very afraid," the Star leader writer said on Saturday.
"John Gormley must be having a laugh.
"Trust them indeed – like we trusted them to provide a proper healthcare system, a safe and cost-effective transport system, top-notch education facilties?"
And Finance Minister got the star chamber treatment for "insulting Irish people's intelligence" by insisting the Lisbon Treaty can't be renegotiated and we simply don't have any choice but to vote 'Yes'.
"Well, Minister, why in the name of God are we having a referendum at all then?"
It's a problem Fianna Fáil, the PDs and the Greens in government would rather not have to bother with.
Lisbon moron
RADIO producers' political bias against Sinn Féin was exposed by the number of programmes that carried 'a listener's comment' that said: "If Sinn Féin is against Lisbon then that's a good enough reason for me to vote for it."
I heard that at least twice on different Dublin stations.
If true, it probably came from callers Paddy and Mary Loo-la. And, if true, the Lisbon moron should have been let on air and asked: 'If Sinn Féin is against child poverty, then are you for it?"


Rugger buggers
AS IF the gay community hasn't got enough to contend with after Iris Robinson's fundamentalist diatribes. The boys at the Gay Rugby World Cup (kicking off at Dublin City University this Friday) are in hot water with fire and brimstone preacher David McIlveen but the Free Presbyterian minister won't be joining them in the post-match communal bath.
The Free Pee pack is on its way to Dublin to line out against rugged rugger types. Reverend McIlveen thunders:
"This rugby event is an abomination and glamourises immoral behaviour. It is totally wrong and I totally condemn it."
So don't expect the raving reverend to be turning the other cheek in a Christian manner and cheering on his local gay rugby team, the Ulster Titans, who are looking for new members under their Rainbow website heading "Gay Rugger Buggers."


In the frame
OUR intrepid photographer was dispatched to get some colour shots on Sunday, the day of the Dublin v Louth and the Poland v Germany matches. Although he got some of Irish boys in blue there seemed to be an inordinate number of Polish blonde women in red and white T-shirts.
So that Mrs Snapper doesn't catch on, I've locked the pix of the Polish blondes in my reinforced steel, under-floor safe, but just to prove Mr Snapper was actually working, here's one of a Polish bonehead who thought he was being very smart seig heiling to our man in the crowd. Silly boy. If anyone knows his name or whereabouts, we'd be happy to give him the publicity he so clearly craves and deserves.

An Phoblacht Magazine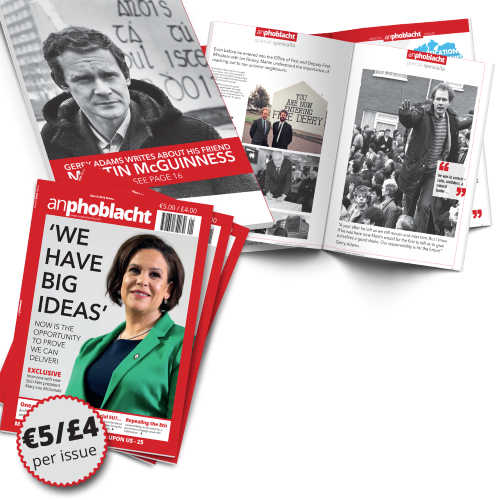 AN PHOBLACHT MAGAZINE:
The first edition of this new magazine will feature a 10 page special on the life and legacy of our leader Martin McGuinness to mark the first anniversary of his untimely passing.
It will include a personal reminiscence by Gerry Adams and contributions from the McGuinness family.
There will also be an exclusive interview with our new Uachtarán Mary Lou McDonald.
test