12 June 2008 Edition
Government won't commit to collective bargaining rights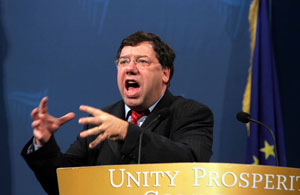 TAOISEACH Brian Cowen said this week that he will not give a commitment to guarantee rights to collectively bargain in the workplace.
SIPTU had asked for an explicit commitment that it would be enshrined before they would recommend a 'Yes' vote on Lisbon to its members. SIPTU has already announced that it will not ask its members to vote in favour of the treaty.
Cowen said that issues on collective bargaining will only be dealt with in the context of social partnership talks.
Sinn Féin Senator Pearse Doherty said the decision by SIPTU to withhold support for the Lisbon Treaty demonstrates that the Charter of Fundamental Rights does not provide new protection in the field of workers' rights specifically with regard to the right to collective bargaining.
"Contrary to the claims made by some trade unionists and politicians, SIPTU, Unite and the TEEU are clear in their understanding of the limitations of the charter and are demanding greater domestic protection, without which the charter would be worthless."