12 June 2008 Edition
Matt Treacy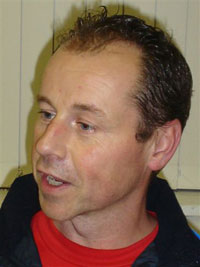 The Purple Bus is on its way
AS PART of her civic education I have attempted to engage Ciara in a learned discussion of the Lisbon Treaty, determined not to influence her one way or the other, and perhaps to learn something new myself. Out of the mouths of babes and all that.
"So, Ciara, what way would you vote if you had a vote?"
"No."
Very good. "Why would you vote no?"
"Because the monkeys told me to." An excuse that might come in useful for myself at some stage in the future, methinks.
On a sadder note, she told me about girls who were trying to persuade their parents to vote 'No' because they had seen the Cóir poster with the slogan "Don't Be Bullied." Bullies come in all shapes and sizes and the ones those little girls are worried about don't reside in Brussels.



ON FRIDAY evening we were in Oldtown, home to the Wild Geese, founded in 1888, one of the oldest and smallest GAA clubs in Dublin and only a field away from Meath.
Borderland. Home place of Molly Weston and her brothers who fought with the United men (and women) at the battle of Tara in 1798. And as if to ward off the nasty neighbours, the Oldtown House pub is full of Dubs stuff going back generations, with pride of place to north county men who played in the blue over the years.
The north county is football territory but we were there to play hurling. The first-ever hurling championship match on their pitch. The team itself plays under the Wild Geese name but is actually a combination of players from several north county football clubs, including Fingal Ravens and Garristown. Symptomatic of the growth of the game in Dublin but more so the fact that Wild Geese themselves have three under-age teams.
Anyway, we won but it was close and we repaired to the Oldtown House across the road for sandwiches, pints and a presentation to mark the auspicious occasion. One of those nights that reminds you why 'The Gah' is such a great thing and why it is worth while not being able to walk the next day! Ciara's advice to "get a zimmer frame" is becoming less of a joke with every passing week.



NO samboes on big days for the Dubs in Croke Park these times. Tofu, Chablis and jazz improvisations for the sophisticates among us in the Clonliffe House, and hotdogs and warm beer for the hoi polloi in less distinguished hostelries and behind the stands.
And so with the strains of Louis Stewart drifting on the balmy Ballybough breeze, and the amusing after-taste of the north Burgundian grape tantalising one's palate, one sets out among the colourful tide of blue, with the occasional dash of red, added by a Louth jersey or a porter-flushed Dub countenance, towards the great citadel.
Ah, bliss it is to be alive. Enough almost to forgive those who scream, "Come on, Number 10! Boot it into the box!!!" or who seem to spend most of the match queuing at the 'concessions' as if they were at the cinema or blocking other people's view as they make their way to and from the said concessions ten minutes into or from the end of each half. But, sure, Dundalk people don't get out that very often.
Anyway, there was plenty of time to muse on such phenomena the other day during a match that was, to all intents and purposes, over ten minutes into the second half. The only question after that was would Dublin attempt to run up some sort of record score but instead they were content to have some point-taking practise.
If it was demoralising for Louth it was pretty meaningless for the Dubs. Louth will be better and have a more realistic run through the qualifiers, where they have generally done well, while Dublin will really be no wiser as to how they might cope with a better team.



WESTMEATH might be such a team and they are certainly better than they were the last few years but one suspects that they will not be able to restrict Dublin in Croke Park in the same way they have been able to restrict other teams, or the way they could restrict Dublin if the match was on a tighter pitch. Having said that, 1/5 Dublin is a silly price.
Mickey Harte and Tyrone must have been left wondering on Sunday whether some malign spirit has cursed them since 2005.
Another draw, another serious enough injury, and further strain placed on already depleted resources. They will be doing well to beat a Down team whose confidence will have been massively boosted in the replay at Newry on Saturday. There will be worse 15/8 shots this summer.
In Cork, Tipperary overcame their hosts for the first time on Leeside since 1923. Astonishing that that record has held so long but perhaps appropriate that it should fall at a time when this great Cork team are perhaps ready to take their curtain call. Such is the structure of the championship that they will more than likely still reach the quarter-finals, at least, but they won't win it.
Tipperary might and the further they go the harder they will be to beat. An epic Munster final awaits regardless of whether it is Limerick, their conquerors in last year's three-match encounter, or Clare, who they meet.
Leinster reaches its interesting stage at the weekend when Wexford take on Dublin in Kilkenny for the right to face the Cats in the final, and in Portlaoise where the Cats will try to be nice about walloping Offaly.
Saturday in Kilkenny will be a different proposition. Wexford will be fighting for their pride and there is no more dangerous adversary. The hurling Dubs will be intent on toppling them for the first time in a generation from the second spot in the province. It has all the ingredients of a battle royal.
So let the Shamrock Pub have the samboes and the pints ready. The Purple Bus is on the way!

An Phoblacht Magazine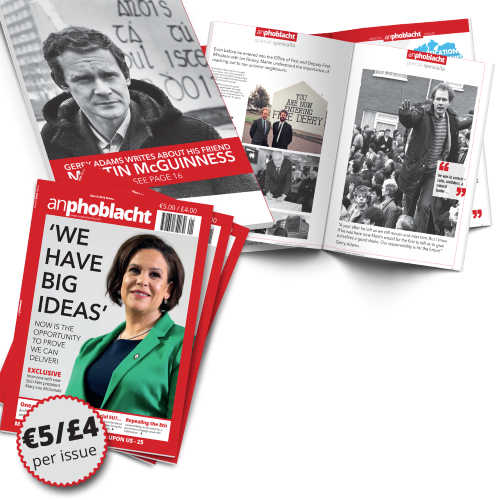 AN PHOBLACHT MAGAZINE:
The first edition of this new magazine will feature a 10 page special on the life and legacy of our leader Martin McGuinness to mark the first anniversary of his untimely passing.
It will include a personal reminiscence by Gerry Adams and contributions from the McGuinness family.
There will also be an exclusive interview with our new Uachtarán Mary Lou McDonald.
test