12 June 2008 Edition
Shoukri sentence 'sends out wrong message' - Maskey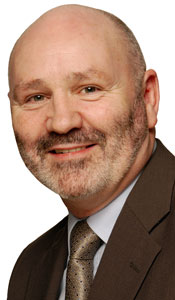 PUBLIC outrage has greeted the news that leading north Belfast loyalist Ihab Shoukri will serve only two months behind bars after being sentenced to 15 months' imprisonment on UDA membership charges last Friday.
Reacting to the news, Sinn Féin Assembly member Alex Maskey, the party's spokesperson on Policing and Justice, said the leniency of the sentence does little to give nationalists confidence in the judicial system. "This case raises serious questions about how loyalists are dealt with by the courts," Maskey said
Ihab Shoukri was arrested with 17 other men after the PSNI raided the Alexandra Bar on York Street, Belfast, in March 2006.
The men were accused of organising a UDA show of strength and charged with UDA membership, a charge that carries a maximum of 10 years' imprisonment.
When the trial got under way in Belfast Crown Court in April, Shoukri, Gary 'Jock' McKenzie, Alan McClean and George McHenry pleaded guilty to membership of the loyalist death squad and were put back for sentencing.
All four appeared in court last Friday, 6 June, and with Shoukri and McKenzie sentenced to 15 months, while McClean and McHenry were given 12-month sentences.
However, with time served and 50 per cent remission, the loyalists will be released before the end of August.
In remarks verging on a political commentary, Judge Coughlin justified the leniency of his sentencing when he cited progress in the Peace Process.
"In my view, it would be unrealistic for the court to close its eyes to the significant changes that have taken place in this society since these offences were committed.
"It is indisputable that the restoration of local political institutions upon an agreed basis has coincided with the fundamental decline, if not the virtual disappearance, of overt terrorist activity."
CONTROVERSY
The Shoukri trial has been dogged with controversy since it opened in April.
Six of those accused along with Shoukri were acquitted of planning a loyalist show of strength after the Public Prosecution Service (PPS) accepted their lawyers' argument that the men were not in a public place when arrested.
Defence lawyers argued that as the loyalists were in an upstairs function room at the time of their arrest they were not in a public place.
The court also found the men not guilty of wearing paramilitary dress even though photos of the six wearing combat trousers, boots and bomber jackets were shown to the court during the Shoukri trial.
Those acquitted were: Mark Green of Hogarth Street; James Fisher, Alliance Road; Gary Dicks, Glenrosa Street; Gary Dunseath, Upper Canning Street; Robert Neil, Forthill Drive; and Stephen Hill of Hillview Avenue.
The British Attorney General is reported be considering appealing Ihab Shoukri's sentence.