5 June 2008 Edition
Moves to reduce CO2 emissions from new cars welcomed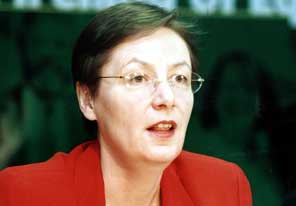 • This news feature is funded by the European United Left/Nordic Green Left (GUE/NGL)
SIX-COUNTY MEP Bairbre de Brún has welcomed proposed new EU regulations to reduce CO2 emissions from new cars.
Speaking at the European Parliament's Environment Committee in Brussels last week, she said:
"The debate on the EU regulations to reduce CO2 emissions from new cars is an essential part of meeting carbon reduction targets.
"The road transport sector is the second highest source of greenhouse gas emissions. All sectors of the car industry and wider society must play their part in bring this level down.
"The European Commission proposes to set the average CO2 emissions for new passenger cars at 130g CO2/km by means of improvement in vehicle motor technology plus additional measures corresponding to 10g/km. This could and should be further tightened as the savings resulting would be enormous.
"Between 1990 and 2005, EU CO2 emissions from transport increased by 32 per cent. I am happy to see a proposed long-term target of 95g CO2/km by 2020 but I believe that this should be further strengthened.
"Compliance should be administered through penalties, and those penalties must be set a level that is high enough. If the penalty is not higher than the cost of making technical improvements to new cars then there will be no incentive to do this.

"Income from fines from firms that fail to meet targets should go to support research programmes aimed at producing greener vehicles and lower emissions."

An Phoblacht Magazine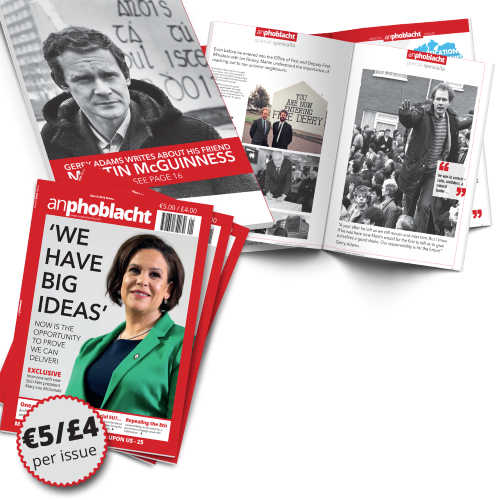 AN PHOBLACHT MAGAZINE:
The first edition of this new magazine will feature a 10 page special on the life and legacy of our leader Martin McGuinness to mark the first anniversary of his untimely passing.
It will include a personal reminiscence by Gerry Adams and contributions from the McGuinness family.
There will also be an exclusive interview with our new Uachtarán Mary Lou McDonald.
test