5 June 2008 Edition
Durkan challenged over SDLP support for detention laws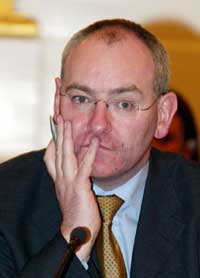 SDLP LEADER Mark Durkan has been challenged to explain his claim that voting in support of an increase in the time a person can be held in custody without charge from seven to 28 days is a good tactic to prevent even longer periods of detention now stands up to the imminent introduction of 42-day detentions.
Sinn Féin MLA Raymond McCartney said:
"During the debate on so-called new 'anti-terrorism' laws in the British House of Commons on 1 April 2008 (All Fools' Day), Mark Durkan led his party's three MPs in support of increasing the length of detention without charge from seven to 28 days. At the time he attempted to justify support for what is tantamount to internment without trial by claiming that it was a tactical decision to prevent the British Government introducing even more draconian limitations."
The Sinn Féin MLA demanded of the SDLP leader:
"Where are your tactics now that 42-day detention without charge is imminent? It seems that the only thing that your tactics proved is the irrelevance of any Irish politicians taking seats in the British House of Commons.
"After the many cases of miscarriages of justice experienced by Irish people under the seven-day detention orders, I would have thought that any nationalist leader would have strenuously opposed any suggestion of an extension. But then it is not the first time that SDLP politics turned out to be more about (failed) tactics rather than substance.
"The only thing that Mark Durkan's tactics and those of the others who used this lame excuse for voting for 28-day detention proved to Gordon Brown is that there was no principle involved — only politics."