5 June 2008 Edition
10 reasons why......The Lisbon Treaty is a bad deal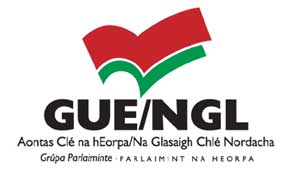 t does not deliver reform, efficiency or democracy. It gives the EU too much power and reduces the ability of member states to prevent decisions that are not in their interests.
It puts at risk the Irish people's automatic right to a referendum in the future. (Article 48 gives the European Council the power to amend existing Treaties without the need for an intergovernmental conference or Treaty). This is in line with the decisions of the French and Dutch governments to ratify the Treaty without rerunning the referenda in which people voted no in 2005.
It gives 105 additional powers to the EU on aspects of international relations, security, trade, economic policy and justice.  In more than 60 of these areas, including aspects of the internal market and health, member states will lose their right to prevent legislation not in the national interest.
It creates an EU Foreign Minister and a common foreign policy. It allows the EU to create a diplomatic corps and to act on the international stage in the same way as a state.
It erodes neutrality by creating a common defence policy and obliging member states to increase military spending.  (Article 11 says "The Union's competence in matters of common foreign and security policy shall cover all areas of foreign policy and all questions relating to the Union's security including the progressive framing of a common defence policy that might lead to a common defence.")
It cuts Irish voting strength on the Council of Ministers by more than half. In addition the threshold for passing decisions is also significantly lowered. It ends the automatic right of each member state to have a Commissioner. This means Ireland will not have a Commissioner for five years in every fifteen.
It fails to address the lack of democracy. (The Treaty includes a Citizens Initiative whereby if one million signatures are collected the Commission must examine the Citizens proposal. However there is no obligation on the Commission to do anything other than consider the proposal. There are proposals for national parliaments allowing one third of member states to object to a Commission proposal. However unless these parliaments can secure the support of the European Council or European Parliament their objection will have no effect.)
It undermines workers' rights and public services. Ireland has already suffered serious consequences from the privatisation of Eircom and Aer Lingus.  The ESB and An Post now face the same fate.  (Article 16 of the treaty places "economic and financial conditions" on the provision of services.  This means that services, including healthcare and education would be subject to the rules of competition.)
It mandates the EU to promote nuclear energy. (Protocol 2 incorporates the European Atomic Energy Community.)
It is bad for developing countries. (Article 10(a) makes the "progressive abolition of restrictions on international trade" one of the EUs guiding principles in its interaction with non-EU member states. This mandates the EU to seek the removal of "beyond borders controls" irrespective of the consequences to developing world economies.)
The European United Left/Nordic Green Left (GUE/NGL) Group in the European Parliament is made up of forty-one MEPs from sixteen political parties in thirteen European countries. GUE/NGL parties received almost 9 million votes in the June 2004 European elections. For us, the EU, with the right political will, has the capacity to change the circumstances of ordinary people for the better. Our alternative vision is of a Europe that stands for peace, equality, global solidarity, social justice, openness and democracy, respect for the environment and human rights.
It is a confederal group in which each component party retains its own identity and policies while pooling their efforts in pursuit of common political objectives.
French and Dutch members of the group played an important role in their respective countries rejection of the EU Constitution.
An Phoblacht Magazine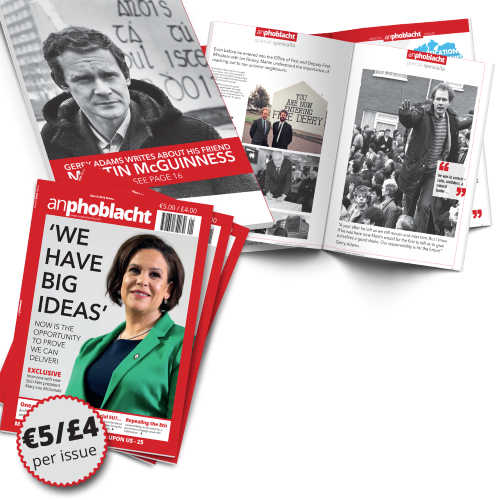 AN PHOBLACHT MAGAZINE:
The first edition of this new magazine will feature a 10 page special on the life and legacy of our leader Martin McGuinness to mark the first anniversary of his untimely passing.
It will include a personal reminiscence by Gerry Adams and contributions from the McGuinness family.
There will also be an exclusive interview with our new Uachtarán Mary Lou McDonald.
test