5 June 2008 Edition
Finance Minister accused of dodging debate on trade deals veto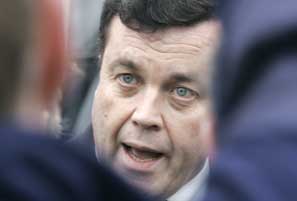 IRISH Finance Minister Brian Lenihan has been accused of dodging the facts and a real debate on the loss of Ireland's veto on international trade agreements such as the World Trade Organisation deal.
Dublin MEP Mary Lou McDonald said that Minister Lenihan is hiding behind statements by the EU Commission which, she said, are "economical with the truth".
Mary Lou McDonald challenged the minister to deal with the factual concerns of the 'No' campaign and farm families.
"Surely the Irish Government can argue this element of the Lisbon Treaty for themselves. Why hide behind the Commission?"
Mary Lou McDonald said that she stands over her argument that Lisbon removes Ireland's ability to veto the kind of international trade agreement currently being negotiated by Pater Mandelson with the World Trade Organisation in Geneva.
Article 188, she said, removes the general veto on services such as health, education and social services.
"The Commission's claim that aspects of intellectual property, investment and transport could be used to veto the WTO deal are highly dubious."
She pointed out that Article 97a of the Lisbon Treaty removes the existing veto with respect to intellectual property. Transport and investment are overwhelmingly governed by qualified majority voting under the existing treaties (Articles 57 and 70 TEEC).
"The most telling aspect of the Commission statement is the highly conditional nature of its assertions. Phrases such as 'not necessarily', 'are often', 'will often' and 'at least in part' demonstrate that the Commission cannot or will not provide a definitive answer to the question of the veto.
"This is all the more surprising when one considers that the Commission knows exactly what is being negotiated in Geneva and on what basis a veto could be used.
"It is telling that yet again a government minister is now issuing statements devoid of reference to the Treaty text and factual argument. Hiding behind EU institutions is no substitute for political debate.
"The veto which could be used today to block a bad WTO deal will be gone if we ratify the Lisbon Treaty. On that basis the best course of action is to vote 'No' if you want to keep the veto."
An Phoblacht Magazine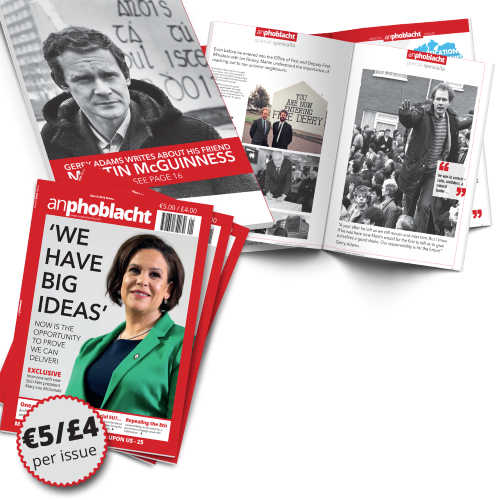 AN PHOBLACHT MAGAZINE:
The first edition of this new magazine will feature a 10 page special on the life and legacy of our leader Martin McGuinness to mark the first anniversary of his untimely passing.
It will include a personal reminiscence by Gerry Adams and contributions from the McGuinness family.
There will also be an exclusive interview with our new Uachtarán Mary Lou McDonald.
test