5 June 2008 Edition
Suicide: Assembly report is a major challenge for the Executive
BY GERRY ADAMS MP, MLA
THE Assembly debate in the past fortnight on the Report on the Inquiry into the Prevention of Suicide and Self-harm – produced by the Committee for Health, Social Services and Public Safety – was the culmination of a thorough inquiry into this very important issue.
The committee's investigation arose following discussions between myself and the Chair of the Health Committee, DUP MP and MLA Iris Robinson, last September.
At that time, and as a result of more reported suicides in west and north Belfast, as well as in County Tyrone and Craigavon, I tabled a motion, along with my party colleague Carál Ní Chuilín, calling for the establishment of an ad-hoc committee of the Assembly to examine the delivery of services and support for people who may be at risk from suicide.
Our concerns had been magnified by a report in June into the suicide of Danny McCartan that had found serious failure of care by the health service. Another report which identified the over-60s as a group at serious risk had also just been published.
The Assembly Health Committee report, which took seven months to prepare, investigated the extent of suicide and self-harm in the North; the effectiveness of the suicide strategy, Protect Life – A Shared Vision, which was published in October 2006; and what steps, structures, processes and resources need to be allocated to improve our efforts to enhance suicide prevention in the time ahead.
In seeking to have the Assembly investigate suicide and self-harm Sinn Féin was also mindful that suicide and self-harm have been increasing each year within the North and across the island, and that there is a need to tackle this issue on an all-island basis.
The extent of the problem is clear. It is generally accepted that the actual rate of suicide is higher than the rate officially recorded. In 2005, official records show that 645 people took their own lives on this island.
In 2006, that figure increased again. In the North, 291 people died by suicide, and in the South the suicide rate was almost 500. In other words, nearly 800 people took their own lives in 2006 across this island.
Many were young and a high proportion was elderly. It is also reported that 1 in every 5 people who go to their GP have mental health needs. In west and north Belfast, this is reported to be 1 in 3.
The Assembly report found that the number of suicides in the North has increased in recent years. An average of 195 people take their own lives each year and a further 4,500 people are admitted to hospital having attempted suicide or inflicted serious injury from engaging in deliberate self-harm.
But, as the report itself acknowledges, "suicide is not a matter of figures or statistics but each person who takes their own life is a life prematurely cut short and a tragedy and a trauma beyond words for the family, for their friends and relatives and for society as a whole".
The Health Committee report praised the work of the Suicide Strategy Implementation Body (SSIB) and the Protect Life: A Shared Vision strategy for tackling suicide. It also identified 26 recommendations to improve our collective efforts on this issue. Sinn Féin supports these recommendations.
The Assembly report calls on the Minister for Health to "establish a designated Suicide Prevention Directorate, along similar lines to the National Office for Suicide Prevention" in the South. The introduction of a directorate, with a dedicated suicide director and team, would ensure greater co-ordination of resources as well as improvements in training of personnel.
Also, while the Health Committee report supports the overall approach contained in the Protect Life strategy, which focuses on specific priority groups, it proposes that these be redefined and examined in light of the increasing evidence that older people, and especially those living in rural areas, are at great risk.
One very important recommendation arising from the Health Committee's report concerns the review and evaluation arrangements that were part of the Protect Life strategy. While provision for such a review was built into the strategy in 2006, it has not yet taken place. I have raised this matter recently with the Health Minister Michael McGimpsey.
Notwithstanding the good work being done through this strategy, the fact is that unless a review is carried out which takes account of the recommendations of the Assembly report, then there is a risk that lessons will not be learned and improvements that could be made are not introduced.
Of course, suicide is not just a matter for the Health Department because it is not just a health issue. Other departments of government also have important contributions to make. That is why the departments of Education, Agriculture and Rural Development, Employment and Learning, and Social development are all represented on the SSIB. Many of the recommendations within the Health Committee report are specifically meant for other ministers.
The Assembly report identified three major sectors that are either not involved in the current suicide prevention strategy and structure or have only a limited engagement. These are the churches, local authorities and sporting bodies. All of these can make a significant contribution to any suicide prevention strategy. I strongly endorse the recommendation that sporting personalities and major sporting occasions should be used to raise awareness of the issue of suicide and to encourage young people to seek help.
Finally, the committee spent a lot of time talking to the many groups already working on this issue, in particular those involving bereaved relatives and friends.
They are doing an enormous amount of good work with very limited resources. Funding especially is a constant battle – usually each year. Funding for the Protect Life strategy and for any improvements emerging from this report and decisions taken by the Executive needs to be ring-fenced: funding should be set for a three-year period to allow for continuity of services and security for those involved.
The urgency of this issue cannot be under-estimated or under-stated. It was reported that five people have taken their lives within a six-mile radius of Dungannon.
While suicide is now better understood than before, and it is accepted that suicide victims and survivors should be treated with compassion and care, the fact remains that only a tiny proportion of the budget in the North and in the South is devoted to mental health.
Professor Bamford's Review on Mental Health and Learning Disability is now with the Department of Health. It is vital that action is taken to implement the changes recommended.
Mental health treatment and services, especially those which are community-based, are still not taken seriously.  This needs to be rectified.
The debate in the Assembly concluded with the Health Committee's report receiving unanimous endorsement and with the Assembly calling on the Executive to bring forward, before the summer recess, a timeframe for implementing the recommendations of the report. That is a major challenge to the Executive and to all of the parties that are represented on it but one which it must deliver on.
So, much progress has been made in the last two years. But much of it would not have happened without the unwavering determination of the bereaved families to make progress. Their strength in the face of this awful hurt is remarkable. They have been to the fore in helping others. They deserve not only our respect and praise — they deserve practical assistance and public investment.
An Phoblacht Magazine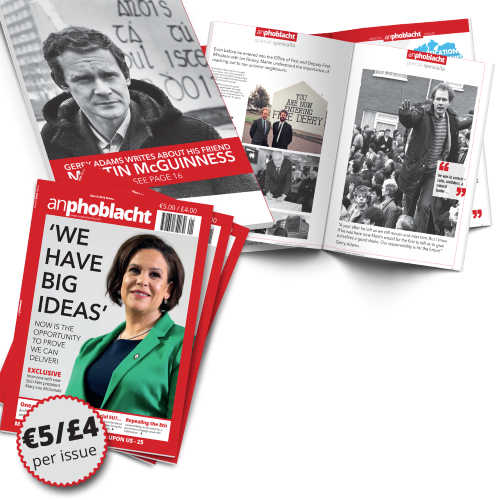 AN PHOBLACHT MAGAZINE:
The first edition of this new magazine will feature a 10 page special on the life and legacy of our leader Martin McGuinness to mark the first anniversary of his untimely passing.
It will include a personal reminiscence by Gerry Adams and contributions from the McGuinness family.
There will also be an exclusive interview with our new Uachtarán Mary Lou McDonald.
test