29 May 2008 Edition
Media View
Those charming Tories

IT'S been 11 years since there was a Tory prime minister of Britain. For at least a few of An Phoblacht's readers the whole idea of the Conservatives in power on the other side of the Irish Sea is something they read about in history books, or wistful Daily Mail columns.
Many Tories can look almost charming. David Cameron rides a bike, listens to Snow Patrol and does his own video blog. Boris Johnson, the new Tory Mayor of London, comes across as an amiable buffoon, the type of chap who could, and did, present a comedy quiz show.
Of course, it doesn't take long for their true colours to show.
According to Monday's English Guardian, the new Tory mayor has made it clear what we can expect when, and probably not too far in the future, Thatcher's children return to power.
"Boris Johnson has scrapped a controversial deal between London and Venezuela which helped to fund half-price bus and tram fares for Londoners on low incomes," The Guardian said.
"The mayor announced yesterday that the agreement he inherited from Ken Livingstone, which traded London's expertise in transport and urban planning for subsidised diesel, would not be renewed when it expired in August."
Johnson's explanation is that he is concerned for the poor of Venezuala which, hollow laughter aside, suggests he supports the high oil prices that has allowed the Chavez government to invest in tackling poverty in a country riven by decades of inequality.
In reality, it is a cheap attack on international solidarity with the only people who are going to lose out being the quarter of a million Londoners on income support who will no longer get cheap bus and train fares.
Old Tories, old dang.
 


 
THERE'S been an awful lot of nonsense written about the Lisbon Treaty over the course of the campaign but right now, far out in front for worst column to date, is the bizarre piece from Vincent Browne in the Sunday Business Post last weekend.
Browne who, God love him, tries to adopt the tone of the weary intellectual tired of all the deceit, claims that each side is as bad as the other, starting with a dig at the 'No' side.
"For instance, the stuff about abortion, about the unelected presidency and unelected foreign minister, about the tax veto, about the self-amending stuff and much more. Such spectacular nonsense that you think you have to vote 'Yes'."
While Vincent's right on abortion, the reality is that no credible 'No' campaign is pushing this as an argument and most, including Sinn Féin, have clearly said it's not in the treaty, a point I heard Mary Lou McDonald stressing on Newstalk radio's The Late Debate not so long ago.
The treaty does create an unelected EU President and an unelected EU Foreign Minister, though the latter's title is the catchy High Representative of the Union for Foreign Affairs and Security – HRUFAS to his friends.
As for the other points, over to you, Mary Lou.
"The treaty also opens the door to tax harmonisation. Sinn Féin has never argued that the veto on taxation is gone. What we have argued is that Article 48 makes it easier to remove this veto in the future.
"Article 48 allows for individual treaty changes, which while requiring unanimity at Council would not automatically require a referendum. Tax is one issue which would not require a referendum."
Vincent's 'plague on all your houses' refrain would be slightly more impressive if there was even a tiny indication he had read the treaty.
Still, we shouldn't be too surprised. According to Vincent, Sinn Féin is supporting the Lisbon Treaty.
 

 
WE DON'T see newspapers running campaigns much anymore. Sometimes they lash a logo over a series of stories and call it a campaign but the notion of newspapers encouraging their readers to take some sort of action is a bit old hat.
Fair play then to the Irish Daily Star, which has been campaigning on the issue of cluster bombs for over six months in the run-up to the current negotiations
It was the Star that exposed the fact that Irish pension reserve funds were being invested in companies that manufacture these vile weapons with a fine piece of investigative journalism back in October.
They followed this up by forcing the Government to withdraw the money though because this story appeared in the Star, and not the Irish Times, for weeks afterwards people continued to write to 'the paper of record' asking the Government to pull out the investments.
With the international conference to ban cluster bombs having started in Dublin last week, the Star has distributed copies of its papers to delegates and had journalist Áine Bonner, who broke the investments story, practically camped out there.
Gutsy, aggressive journalism that exposes hypocrisy, challenges the Government and pushes an issue of global humanitarian importance until success is achieved.
From a paper that illustrates its problem pages with naked women in showers thinking deep thoughts. Perhaps the Times should give it a try.
An Phoblacht Magazine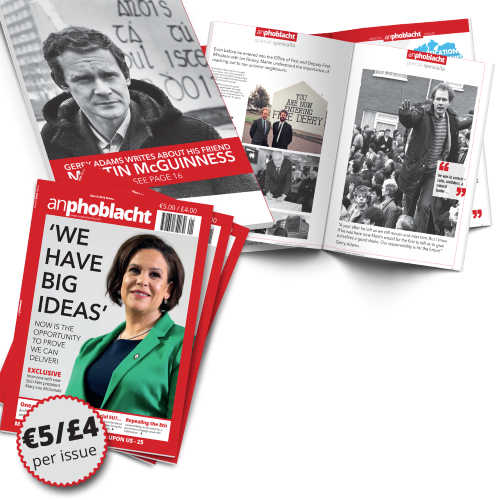 AN PHOBLACHT MAGAZINE:
The first edition of this new magazine will feature a 10 page special on the life and legacy of our leader Martin McGuinness to mark the first anniversary of his untimely passing.
It will include a personal reminiscence by Gerry Adams and contributions from the McGuinness family.
There will also be an exclusive interview with our new Uachtarán Mary Lou McDonald.
test