29 May 2008 Edition
Martin Doherty Commemoration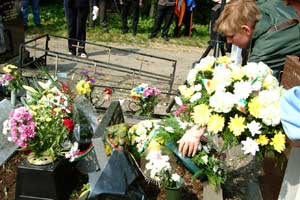 MICHAEL DOHERTY lays a wreath at the grave of his father, Martin 'Doco' Doherty, in Glasnevin Cemetery, Dublin, during the annual commemoration last Saturday, 24 May, for the IRA Volunteer who was murdered in 1994.
Doherty was shot dead as he confronted members of a pro-British death squad who were planting a bomb at a republican function in the Widow Scallan's bar in Pearse Street.
It is widely acknowledged that the actions of the popular Dublin Volunteer on that night averted what would have been a massacre.