29 May 2008 Edition
Matt Treacy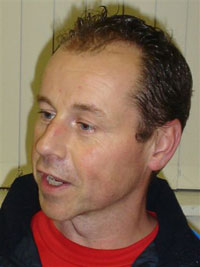 On the winning trail
ON OTHER OCCASIONS, bringing the girls and boys from Joey's, Vincent's, Mark's and Crumlin together in close proximity would be a recipe for a good old mill. Last Sunday, however, the Joey's bus was the very essence of multicultural harmony as we journeyed together to support the hurlers of Dublin in Portlaoise against Westmeath. And with only the odd light-hearted reference to past atrocities to shorten the road.
We might have had another exotic guest had His Worship the Lord Mayor (of a certain midland town) not missed the first half because he was away promoting the sport of the Gall. And so the conundrum of 'Would the lads on the Joey's bus have hung him by the side of the Naas bypass if the Dubs had lost?' must alas remain unanswered. For the time being at least.
From His Worship's perspective, he missed the best part as his hurricane-assisted county men were leading by a point after 35 minutes.
The wind played a huge part and once Westmeath had failed to take advantage of it to build a significant half-time lead the writing was on the wall. They had introduced Brendan Murtagh (who was supposed to be unavailable due to injury) in the last ten minutes of the half, obviously hoping that he would make a difference and perhaps only intending to spring him in the second period if things were looking tight. Murtagh scored three points but it was too little.
Dublin will have been reasonably satisfied with their performance although it did take them a while to settle down, a luxury they are unlikely to be afforded by Wexford or anyone else. In fairness, Ronan Fallon at centre half-back was playing his first inter-county game since last August but once he adjusted to the pace he was dominant.
With the wind at their backs, Dublin outscored Westmeath by 3-14 to 0-3. The first goal resulted from a clever dispossession of goalkeeper Mark Briody by David O'Callaghan, who found the net and was quickly followed by John Kelly and James Burke. Even more satisfying from a Dublin perspective is that all but 0-4 of their 3-21 came from play in a match well refereed by Cathal McAlister of Midleton.
The Sunday Game coverage was a bit disturbing. It was recorded prior to the match, obviously, and featured upbeat and optimistic prognostications about the future of Dublin hurling. Far too much so indeed from the point of view of those of us who can recall other dawns that turned out to be false ones. The foundations are good but this house will not be finished anytime soon.


THERE MUST be a few people in Monaghan wondering about false dawns after Fermanagh unceremoniously dumped them out of the Ulster championship last Sunday. Monaghan's form seems to have taken a nosedive since the earlier stages of the league and they will have to wait anxiously to see who they get in the qualifiers.
The Fermanagh defence, even without Barry Owens, managed to curtail Monaghan's main source of scores, which are frees. Only three of their ten points came from placed balls and their major free-taking asset, Tommy Freeman, only managed to score once from play.
Another notable feature was referee Derek Fahy's intolerance for some things that other arbiters have treated as borderline.
Fermanagh only benefited to the tune of three points in actual scores from frees but Fahy's handling of the game clearly frustrated Monaghan, as exemplified by Gary McQuaid's gratuitous assault on Shane McCabe in the dying minutes.
Perhaps I am reading too much into it but it seems to me that Monaghan have suffered a crisis of confidence since the Dublin match in Parnell Park when their game plan (such as it was) ran into another bunch who don't really care how things look from outside when it comes down to it. If that's what you're having yourself!
Fermanagh, meanwhile, await the winners of this Sunday's clash between Donegal and Derry. Derry are marginal favourites on the back of their league triumph and while Donegal will be anxious to compensate for the disappointment of last year, ironically coming after they too had won Division One, Derry have possibly more options. But it is not a match to be risking the mortgage on.


IN LEINSTER, Wicklow will be hoping to continue on the winning trail against Laois. This could be far closer than the betting odds suggest but Laois will probably come through. The other Leinster quarter-final, between a still-depleted Meath and Wexford at Carlow on Sunday, is far more interesting.
The last time they met in the championship, Wexford beat them and it would be no surprise at all if the same was to happen again. Wexford were unbeaten in Division Three, which they won, beating Fermanagh in the final. No slouches, as they say, and with Mattie on form against a weakened Meath defence, Wexford are a better than 5/2 chance to win.
On Sunday, Down take on London and Antrim play Derry in the Ulster hurling semi-finals with wins for Down and Antrim the confident prediction. The most notable aspect of this is that the Antrim match is down to start at the ludicrous time of 8 o'clock! And some people wonder why hurling is not taken seriously in places.
The first Munster hurling championship encounter takes place in Limerick where Clare will be hoping to improve on their performances of the last few years against Waterford. For the first time in several years there has been very little about Waterford, which one suspects reflects the belief that perhaps they have missed the boat.
Recent concerns over the availability of Dan Shanahan have possibly added to that but he will be there and Waterford have enough quality and enough energy to have another right lash at it. Clare could be the first to feel that this weekend.

An Phoblacht Magazine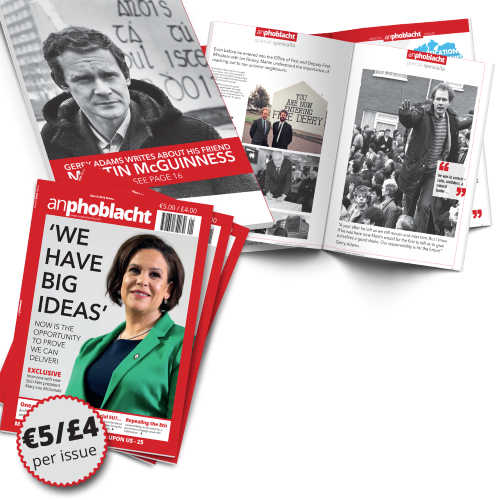 AN PHOBLACHT MAGAZINE:
The first edition of this new magazine will feature a 10 page special on the life and legacy of our leader Martin McGuinness to mark the first anniversary of his untimely passing.
It will include a personal reminiscence by Gerry Adams and contributions from the McGuinness family.
There will also be an exclusive interview with our new Uachtarán Mary Lou McDonald.
test