29 May 2008 Edition
Andersonstown POWs organise commemorative parade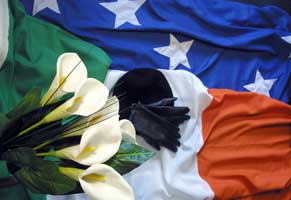 REPUBLICAN former prisoners of war from the Andersonstown area of Belfast are organising a commemorative parade for this Saturday, 31 May, and are appealing to the families of the republican dead to attend and to bring photos of their deceased relatives.
The parade, which the organisers hope will become an annual event, is being supported by the Andersonstown Commemoration Committee.
organise
Speaking to An Phoblacht, Seán Lennon of Cumann na nIarchimí explained that republicans from the area wanted to do something to commemorate all the republican dead from the area so they decided to organise the march.
"We especially want the families of our dead friends and comrades to carry photographs of their relatives so that people can put a face to people we see as heroes.
"After all, our fallen comrades were ordinary people who displayed extraordinary courage when the need arose so it's important that we remember them as ordinary people as well as remembering their heroism."
Sinn Féin Assembly member Paul Maskey is to deliver the main oration and he told An Phoblacht:
"This is a great honour for me to speak at this inaugural march. I would encourage every republican to attend and support the families of our martyrs."
The march is to assemble at the Roddy McCorley Club on the Glen Road at 5pm on Saturday, 31 May. Then it will proceed to the Garden of Remembrance at the Andersonstown Social Club on South Link for a wreath-laying ceremony.