29 May 2008 Edition
Movie award confirms enduring interest in the Hunger Strikes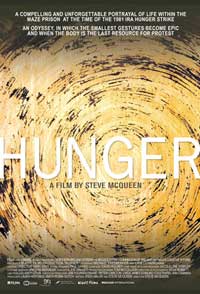 SINN FÉIN MLA and former Hunger Striker Raymond McCartney has congratulated Steve McQueen, Michael Fassbender and all those involved in the making of the film Hunger, after it scooped the Camera d'Or prize at the Cannes Film Festival last weekend. Hunger which deals with the 1981 H-Block Hunger Strike in which ten Irish republican prisoners died won the prize for the best first feature film.
The Channel Four/Blast Films co-production is directed by Brtish former Turner Prize winner and artist Steve McQueen and co-written by award-winning Irish screenwriter and playwright Enda Walsh.
McQueen's debut feature film, Hunger details the last six weeks in the life of Hunger Strike leader Bobby Sands. In the course of the Hunger Strike, Sands was elected as MP for Fermanagh/South Tyrone as an Anti-H-Block/Armagh Political Prisoner candidate.
"I welcome this accolade given to Hunger. This award for first-time film-makers, which was given to Steve McQueen by US actor Dennis Hopper, confirms the huge interest in the Hunger Strikes and the enduring legacy Bobby Sands and his comrades have left. This is an important subject and I look forward to the film being screened in Ireland", Raymond McCartney said.
The film recounts the last weeks of Bobby Sands' life in graphic detail, showing the brutality of prison warders and the horrific decline of Sands' emaciated body. Michael Fassbender who plays Bobby Sands reportedly starved himself for two months in preparation for the role.
The sacrifice of Hunger Strikers Bobby Sands, Francis Hughes, Raymond McCreesh, Patsy O'Hara, Joe McDonnell, Martin Hurson, Kevin Lynch, Kieran Doherty, Thomas McElwee and Mickey Devine effectively defeated attempts by the British Government to criminalise republican prisoners and by extension the entire republican struggle. It resulted in a huge upsurge of support for the IRA throughout Ireland and across the world.
Director Steve McQueen is reported as saying that there are parallels between the H-Blocks in 1981 and what has happened more recently in the US detention centre in Guantanamo in Cuba and the US-run Abu Ghraib jail in Iraq.
Meanwhile Some unionist and British commentators have already denounced the film as a 'celebration of a terrorists'.
In 1996 another successful film dealing with the 1981 Hunger Strike, Some Mother's Son, was criticised by apologists for the British Government when it screened in Cannes in 1996.
Hunger is expected to go on cinema release later this year.