29 May 2008 Edition
Two weeks to go - Make sure it's 'No' to Lisbon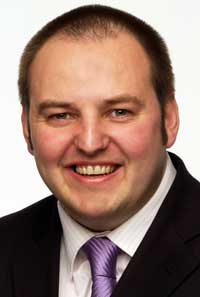 By Pádraig Mac Lochlainn
Director of Sinn Féin's
Lisbon Treaty Campaign

AS REPUBLICANS across Ireland read this edition of An Phoblacht, it will be around two weeks to the Lisbon Treaty polling day on Thursday 12 June. Now that we are in the final run-in, I want to appeal to you to give every spare moment you have over the next fortnight to supporting the Sinn Féin campaign in your area against this treaty.
Even before we set out on the canvass trail, Sinn Féin activists had distributed 500,000 information leaflets across the entire state with our arguments against the Lisbon Treaty.
Our public representatives have attended over 100 public debates and meetings and taken part in a huge number of radio and television debates.
In particular, our party chairperson and MEP for Dublin, Mary Lou McDonald, has been inspirational in her political leadership and detailed knowledge of the profound issues at stake.
Our party has produced specific information leaflets outlining the implications of this treaty for workers, farmers, and small businesses, which have been delivered across the state. We have also engaged directly with the organisations representing these sectors, both nationally and locally.
We have done all of this because we take our republican responsibilities seriously. Prior to adopting a position on this treaty, our party undertook an in-depth analysis of it, an analysis much enhanced by having two MEPs on an all-Ireland basis and a dedicated European team for the last four years.
Our view is clear. This treaty is a bad deal for Ireland and should be sent back for renegotiation.
•    We need to ensure that we remain at the heart of Europe by retaining our permanent commissioner and maintaining our voting strength;
•    We need a specific article protecting neutrality;
•    We need specific protocols reserving this state's right to continue making its own decisions on taxation;
•    We need to ensure that the clear and present threat to workers' rights, our public services (including health and education), and our farming and rural communities is unambiguously addressed in any future proposals.
Following the disappointment of last year, this Lisbon Treaty campaign is a unique opportunity for Sinn Féin to distinguish ourselves from the rest. I am proud of how we have conducted our campaign to date but the remaining battle for hearts and minds can only be won on the ground. I appeal to our members and supporters to do all you can to maximise the 'No' vote in your communities. It is a tough challenge to take on the might of the political and media establishment but as our late, great comrade, Brian Keenan, said:
"At a time of great change we need to constantly lay out the republican vision. We need to constantly remind people we are for equality, liberty and fraternity. We are against exploitation and inequality."
Over the next fortnight, let Brian be your inspiration.
Lisbon Treaty bad for business
AN INFORMATION guide outlining why the Lisbon Treaty is a bad deal for Irish businesses was launched by Sinn Féin on Monday, 26 May.
Dublin MEP Mary Lou McDonald was joined at the launch by Dublin City Councillor Daithí Doolan and Campaign Director of Policy Eoin Ó Broin.
Saying that it was important that Ireland continued to have a strong voice at the EU table, Mary Lou McDonald pointed out:
"We are entering into a period of great economic uncertainty. The most pressing task facing the Government is to develop a strategy to deliver the next generation of jobs. Supporting small to medium-size enterprises is central to this task. This means investment in research and development, information technology, education, infrastructure, and public services.
"The Lisbon Treaty puts significant pressure on member states to reduce public expenditure. It limits the range of options available to governments in times of economic slow-down, particularly by placing more stringent limitations on borrowing.
"It fails to address the heavy restrictions of state aid. It actively undermines public services. And it opens the door to tax harmonisation. All of this reduces the Irish Government's ability to invest its own future."

NEW RESTRICTIONS
McDonald said that Articles 104 and 115 of the treaty impose new restrictions on member states' borrowing ability and empower the European Commission to issue budgetary guidelines aimed at curbing public expenditure. The existing restrictions on annual budget deficits are too rigid, she said. The Lisbon Treaty will make this situation worse.
Meanwhile, Article 16(b) places new "economic and financial conditions" on the provision of services, including healthcare and education. This gives the Commission the power to force member states to open health and education to the rules of competition and private operators.
McDonald said that the Protocol on the Internal Market and Competition of Treaty mandates the EU to ensure that "competition is not distorted". Such "distortions" include state aid and public funding. Again this limits the tools available to respond to a downturn in the economy.
"Article 2 (b) gives the EU exclusive competence over commercial policy, including the negotiating of international trade agreements," the Dublin MEP said.
"The treaty will also give the EU more power by providing for qualified majority voting on laws governing foreign direct investment and international agreements on foreign investment."

TAX HARMONISATION
The Dublin MEP insisted that the treaty does open the door to tax harmonisation, despite what the Government says.
"Sinn Féin has never argued that the veto on taxation is gone. What we have argued is that Article 48 makes it easier to remove this veto in the future. At present we have two lines of defence to prevent tax harmonisation: the veto and the fact that such changes could only happen in the context of an overall treaty revision, which in this state requires a referendum.
"Article 48 allows for individual treaty changes, which while requiring unanimity at Council, would not automatically require a referendum. Tax is one issue which would not require a referendum. Thus the Lisbon Treaty removes this important additional line of defence.
"The Government says that it would use the veto if required. But this is the same government that has buckled under pressure before about having a permanent commissioner and we have no reason to believe that they would not do so in the future.
"In a time of economic uncertainty governments need to be free to choose the best course of action to stimulate the economy and drive balanced and sustainable economic growth. The Lisbon Treaty restricts governments' choices, imposing a 'one size fits all' approach to the economy.
"By rejecting the Lisbon Treaty on 12 June we can get a better deal. Protect our position in Europe. Protect your business interests. Vote 'No' on 12 June for a better deal in Europe."
ICTU executive 'misguided' on Lisbon Treaty
THE Irish Congress of Trade Unions Executive Council has declared its support for the Lisbon Treaty after a meeting in Dublin. The council voted 14/5 in favour of supporting the treaty. However, eight members abstained from the vote, including SIPTU. One of the largest unions within Congress, Unite, has come out strongly against the treaty, as has the TEEU.
Sinn Féin spokesperson on Workers' Rights Arthur Morgan TD expressed disappointment at the decision to support Lisbon by Congress. He believes the Executive Council was misguided on what the treaty and the Charter of Fundamental Rights can deliver for workers.
"I am disappointed that the Irish Congress of Trade Unions – following deliberations where a significant number of trade unionists, including members of the state's biggest union, SIPTU, abstained – has come out in favour of a 'Yes' vote.
"Sinn Féin has written to all members of the ICTU Executive, urging them to recommend a 'No' vote on the basis of the implications for workers' rights and public services.
"We had been heartened by the fact that both Unite and the TEEU are clear in their opposition to the Treaty and have been to the fore in articulating reasons why the Lisbon Treaty is bad for workers' rights."
He went on to say that he believes the ICTU decision stems from a fear instilled by the Government, Fine Gael and Labour that jobs would be lost if the treaty is defeated combined with a mistaken belief that the Charter of Fundamental Rights has the potential to deliver the right to strike and collective bargaining.
Gerry Adams on Lisbon campaign trail in the West of Ireland
SINN FÉIN President Gerry Adams was in the west of Ireland on Tuesday 27 and Wednesday 28 May to campaign for a 'No' vote in the Lisbon Treaty referendum.
Adams was accompanied on the trip by the party's Director of the Lisbon Campaign Pádraig Mac Lochlainn. They visited Sligo, Mayo, Galway, Roscommon, Leitrim and Cavan. They will also visit Athlone.
The Sinn Féin President is due in Dublin later in the week and next week will visit Munster.
Speaking prior to the trip to the West Adams said:
"On 12 June the Irish people will go to the polls and whatever happens on that day Ireland's place in Europe is secure. I strongly believe that the Lisbon Treaty is a bad deal for Ireland. It will reduce our political strength, further undermine neutrality and is bad for the economy, the farming community and workers' rights.
"The vast majority of laws now begin in Europe. Powerful EU political institutions make proposals and pass laws that directly affect our daily lives. Lisbon reduces Ireland's strength in these institutions. Ireland will have no EU Commissioner for five out of every fifteen years, our voting strength on the Council of Ministers will half while at the same time bigger countries like France, Britain and Germany almost double their strength. The need to keep a permanent Irish Commissioner is obvious and should not be given away lightly.
"The Lisbon Treaty will result in greater amounts of Irish taxpayers' money being spent on Irish and EU military capabilities. It will further consolidate the EU's control over foreign and security policy. It will allow for the emergence of mini military alliances of member states and for the first time the EU will have its own Foreign Minister with a diplomatic corps who will oversee such policies.

"Workers' rights are not protected anywhere in this Treaty. The right of workers to decent pay and conditions must be protected. EU law allows companies from outside Ireland to bring in workers and undercut Irish rates of pay and conditions. The Lisbon Treaty doesn't tackle this issue. The rights and conditions of all workers need to be protected.
"The Lisbon Treaty puts the livelihoods of farmers at risk by giving the EU Trade Commissioner Peter Mandelson even more power and removing the Irish government's right to veto bad trade deals in the future. It is possible to get a better deal for Ireland in Europe if the Irish people vote 'No' on 12 June and send the government back to the negotiations with a strong mandate."




Ógra highlights denial of Lisbon vote to Northerners 
Ógra Shinn Féin activists protested outside Belfast City Hall last weekend, to highlight the denial of democracy by Fianna Fáil and the Irish Government over the Lisbon Treaty. The youth wing of Sinn Féin held a protest with street theatre, and distributed thousands of leaflets posing the question, 'Why can't you vote in the Lisbon Treaty?' in reference to the denial of Irish Citizens in the Six Counties from voting in the upcoming referendum.
Ógra Ulster organiser, Councillor Johnny McGibbon commented:
"This referendum effects the entire country, but only citizens in the 26 counties will be casting a vote. We engaged with many people who where bitterly angry at not being allowed to exercise their democratic right, which was promised under the Good Friday Agreement."
"Fianna Fáil continuously tell us of their republican credentials, yet with this treaty there was an ideal opportunity to put all-Ireland politics into action, which they failed to act upon.
"It seems those campaigning for a 'Yes' vote, are not interested in the full facts of the treaty; and in the case of Fianna Fáil, aren't interested in all-Ireland democracy.
"Ógra Shinn Féin is stepping up its campaigning in the weeks leading up to the referendum urging Irish citizens with a vote, to reject the Lisbon Treaty. We will be particularly focusing on the youth vote and engaging young people, as it will be our generation who will suffer worst if the Lisbon Treaty is passed."
"In the interests of a better Europe and a better Ireland, let's make sure it's a resounding 'No' to Lisbon come 12 June."