29 May 2008 Edition
The Mitchel McLaughlin Column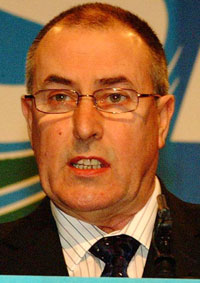 An independent Environmental Protection Agency is crucial
DESPITE Environment Minister Arlene Foster's rejection, pressure must be maintained for the setting up of an independent and effective Environmental Protection Agency (EPA).
Arlene Foster's basis for rejecting the demand for an independent EPA does not stand up to scrutiny.
The bogus claim that keeping the powers within her department allows for greater accountability fails to convince any objective analysis. The Department of the Environment's record of holding polluters to account is one of abject failure. The truth is that Arlene Foster has no firm basis for rejecting the call for an independent EPA.
This proposal also has strong support from across the spectrum in the environmental sector and we will support any campaign to have this situation rectified. A new EPA would not only work to the benefit of and protect the environment, it would also be in the best interests of other groups such as the Irish farming and fishing community.
It is vitally important that an EPA has strong legal powers and be organised in conjunction with its counterpart in the South on an all-Ireland basis to operate effectively.
The Coalition for Environmental Protection in November last year held a cross-party event at Stormont co-sponsored by Gerry Adams, David Ford (Alliance), Tommy Gallagher (SDLP) and Danny Kennedy (UUP) to highlight the urgent need for an independent EPA. Therefore it cannot be said that this is a party political issue but one that draws strong support from a broad section of society. The DUP is alone in opposing an independent EPA.
Protection of our environment from the threats it faces is too important an issue to be left to the vagaries of political influence depending on which party holds the portfolio.
We have all read on a far too frequent basis articles and reports about water pollution, fish stocks being wiped out, fly dumping, illegal landfill sites, etc, with little effective prosecution or effective application of existing laws.
There are also major issues internationally and the reality is that successive British direct rule ministers failed to plan properly for the future, for a safer environment, across a whole range of matters. The Irish Government's performance when it comes to environmental issues is no better. They failed to provide a co-ordinated policy approach, allocated inadequate resources, and gave the protection of the environment a low government priority. This has to change.
Reports stretching back over decades, including European and other international assessments, have highlighted deficiencies in the approaches of both Belfast and Dublin to environmental issues. A totally independent and transparent Environmental Protection Agency with strong enforcement powers can ensure no departmental or political interference in its work. An all-Ireland approach would also ensure greater regulatory and enforcement mechanisms.
There is also a need for a robust renewable energy policy and waste management strategy. With oil predicted to reach $200 a barrel creating higher energy costs, all the environmental concerns and the need for alternative energy sources will take on an even sharper importance. An independent EPA is a crucial part of this jig-saw. Sinn Féin will wholeheartedly continue to campaign on this issue.
An Phoblacht Magazine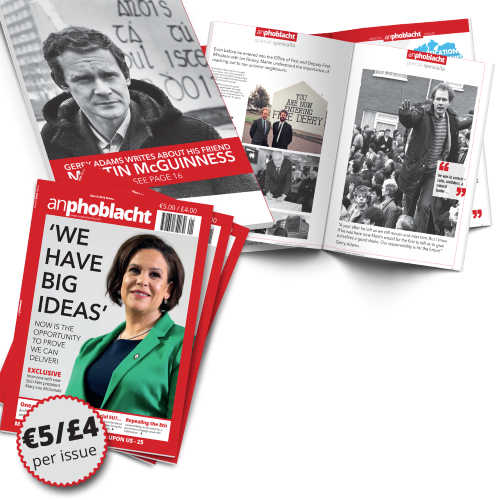 AN PHOBLACHT MAGAZINE:
The first edition of this new magazine will feature a 10 page special on the life and legacy of our leader Martin McGuinness to mark the first anniversary of his untimely passing.
It will include a personal reminiscence by Gerry Adams and contributions from the McGuinness family.
There will also be an exclusive interview with our new Uachtarán Mary Lou McDonald.
test