15 May 2008 Edition
Ministers at sea over Lisbon Treaty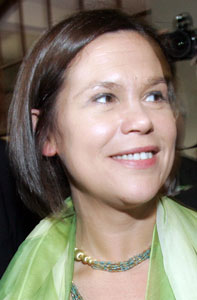 GOVERNMENT ministers Willie O'Dea and Micheál Martin have shown in two RTÉ radio debates with Sinn Féin that they don't know key facts about the Lisbon Treaty that have serious implications for Irish business and farming and EU militarisation, according to Sinn Féin MEP Mary Lou McDonald.
The Dublin MEP said that during two RTÉ radio debates on Monday, 12 May, the two senior government ministers appeared unaware of key information relating to the implications of the Lisbon Treaty for Ireland.
Former Enterprise Minister Micheál Martin denied that the 26-county state is losing its veto over the outcome of international trade agreements while Defence Minister Willie O'Dea didn't know that Ireland will be unable to stop other EU states coming together in mini military alliances and operating in the name of the EU.
"I find it unbelievable that a former Minister for Enterprise would be unaware of something that is so critically important to Irish business and farming," Mary Lou said.
"The fact is that Ireland will lose its veto on trade agreements under Article 188."
McDonald also hit back at accusations by Taoiseach Brian Cowen that the 'No' campaign is seeking to confuse the electorate rather than persuade them on the issues.
"This is a little hard to swallow from a government leader whose own ministers do not appear to have a grasp on key elements and implications of the Treaty for the Irish people," the Dublin MEP said.
"Sinn Féin is ambitious for Europe and believes Ireland's place is in the EU. That place is secure and uncontested. To suggest otherwise is a clumsy attempt by the 'Yes' camp to distract from the actual content of this treaty and what it means for Ireland, Europe and the wider world.
"I believe in a democratic, social Europe that supports the needs of member states' citizens. This treaty undermines democracy, erodes workers' rights and public services, deepens EU militarism and will not deliver for the economy. Ireland and EU deserve better. This treaty can be renegotiated. We need to get it right."
TRUTHFUL
The MEP called again on the Government to engage in a truthful and transparent debate on the Lisbon Treaty.
"Is it any wonder that over a third of the electorate remain disengaged from the Lisbon Treaty debate when Government ministers refuse to debate in a mature, robust manner on the treaty's contents and its implications for the Irish people.
 "It is astonishing to me that Micheál Martin makes the same mistake as Willie O'Dea and he also appears unaware that Ireland will be unable to stop other EU states coming together in mini military alliances and operating in the name of the EU.
"While Ireland will retain the right to opt out of military interventions, a new procedure contained in Lisbon – called 'structured co-operation' – would allow a smaller number of member states to agree a foreign policy or military intervention to be carried out with the imprimatur, finance and logistical resources provided through the EU."
The Sinn Féin MEP insisted that Minister Micheál Martin is wrong when he states that these mini alliances need the unanimous approval of all member states.
"Member states do not have a veto, Article 28E clearly states this," Mary Lou said.
"With just over four weeks to go to the referendum I am putting it to the Government that perhaps now is the time to end the schoolyard name-calling and let's simply debate the facts."