8 May 2008 Edition
Media View BY FRANK FARRELL
Radical differences
THE COMPARISON between Sudanese journalist Sami-al-Haj – who has just been released from Guantanamo Bay after six years, including over a year on an excruciating hunger strike  – and the BBC journalist, Alan Johnston – held for four months in Gaza – is an interesting example of the Western media's double standards. The British newspaper, The Guardian, published a graphic account of al Haj's incaceration, torture and force-feeding on Monday and, in fairness, did justice to his illegal, barbarous treatment by the US military.
The article describes the agonising, twice-daily force-feeding Sami was subjected to (in a sketch of the ordeal he depicted himself as a skeleton being force-fed) as well as the torture and humiliations inflicted on him and other prisoners.
Sami was described as a mild-mannered personality whose crime in US eyes was not simply that he wanted to be a journalist but that he had done so with the Arabic TV station, al-Jazeera.
Of his 130 interrogations, 125 of these consisted of just one question: What are the links between al-Jazeera and al-Qaeda? Another sign of the US military's disdain for the Arab station which dared to broadcast a local view of the US role in the Middle East came when it bombed the station's Kabul office in 2001. They repeated the tactic in Baghdad on 8 April 2003, killing journalist Tareq Ayoub. This was despite the fact that the network is not even Iraqi and had given the US State Department its Baghdad office co-ordinates to avoid any such 'mistakes'.
Monday's article in the Guardian's Media section was headlined 'The Other Alan Johnston', a reference to the BBC journalist who was held for four months in Gaza before a storm of international media protest and political pressure forced his release. Although his incarceration was gentler and comprised a small fraction of al-Haj's six-year imprisonment, one can have nothing but sympathy for Johnston. But even the Guardian author of the article on al-Haj, Richard Norton-Taylor, acknowledges in a concluding sentence that one big difference between the two journalists is that Johnston received far greater attention and publicity. And if the Yanks or anyone else bombed the BBC or The Guardian...


I AM as concerned about the subversion of editorial standards at the Sunday Independent as my colleague, Julia Carney, who last week described the stealthy introduction of giveaway CDs glorifying the IRA in the paper's effort to maintain sales.
Julia pointed to the Sindo's paranoia about the Mail titles eating into the Irish market and its consequent rediscovery of a long-forgotten Irish identity in an effort to assert itself amongst Irish readers.
As one whose sacrifices for Ireland include regular reading of the Sindo, I can inform the blissfully ignorant An Phoblacht readership that the Sindo's battle with the Mail has involved a reversion to crude forms of nationalism. This includes jibes at the editorial values and tone of the Mail's British journalists, including phonetic imitation of their accents. The Sindo has even attacked the Mail as a British paper that has dared to 'come over here' and attack our former Taoiseach, Bertie Ahern, over his statements to the Mahon Tribunal.
Things got a bit complicated recently when the Sindo tried to describe an alliance between the British Blackshirt-supporting Mail and Irish journalist Frank Connolly, but why let reality get in the way of a good conspiracy theory?
However, last Sunday's free CD that included the stirring song, Four Green Fields was a bridge too far. Was Eoghan Harris consulted about the inclusion of a song that speaks of how the Irish who "fought and died" against those (the Brits) who brought "war and death, plundering and pillage" to our four green fields, one of which was left "in bondage"? Or how those who fought "had sons, as brave as were their fathers" (the modern-day IRA) who would ensure that fourth green field will "bloom once again"?
Perhaps the Sindo believes the song describes their gallant fight to free the Irish newspaper market from the marauding Saxons of the Mail on Sunday.


AGEING Irish Times and RTÉ hacks like to cling to the hippie notion that they were, like, radical, man, in the good old days of the anti-Vietnam war protests and the Paris riots. RTÉ DJ Dave Fanning this week took a retro look at 1968, the Paris riots and all that.
Danny Cohen-Bendit was interviewed as was Tommie Smith who, with fellow African-American athlete John Carlos, performed their 'Power to the People/Black Power' salute at the 1968 summer Olympics in Mexico City. Fanning spoke to a former member of the Weathermen, an ultra-left organisation made up of US student activists that carried out a bombing campaign in American cities.
This interview was even funnier than the one with Bendit – once a radical icon dubbed 'Danny the Red' but now as politically harmless as John Gormley – with Fanning asking the former Weatherman what it was like to 'go underground' and be 'on the run', as it were. Well, golly gosh, what a scoop! But what a pity it took Fanning nearly 40 years to delve into this fascinating subject.
If only he'd asked me, I know one or two people round here who could have helped him with his enquiries. But then Fanning was always one of those long-distance radicals who supported Section 31 state censorship of TV and radio at home.
So, in his nostalgia trip about the watershed year of 1968, and with Section 31 now long gone, who did Fanning chose to interview about the stirrings that year of radicalism and rebellion in Ireland? Former SDLP representative Ivan Cooper. Not wanting to upset 'The Man' at RTÉ, Dave 'Radical Dude' Fanning played it nice and safe – as usual.

An Phoblacht Magazine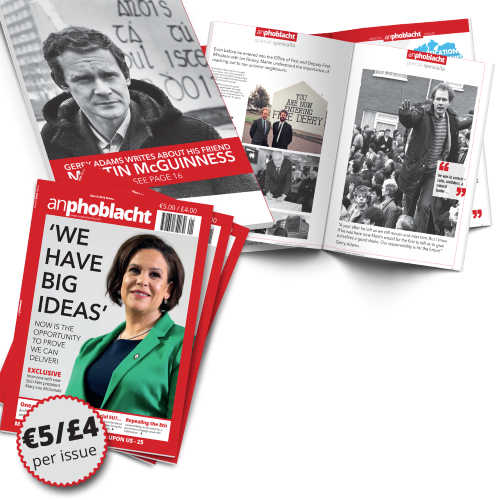 AN PHOBLACHT MAGAZINE:
The first edition of this new magazine will feature a 10 page special on the life and legacy of our leader Martin McGuinness to mark the first anniversary of his untimely passing.
It will include a personal reminiscence by Gerry Adams and contributions from the McGuinness family.
There will also be an exclusive interview with our new Uachtarán Mary Lou McDonald.
test