8 May 2008 Edition
Tony Benn speaks out against Lisbon Treaty in Dublin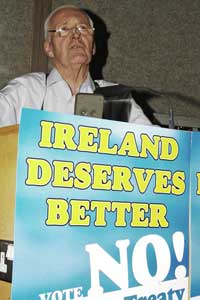 TONY BENN, former British Labour MP, cabinet minister and socialist campaigner, made a whirlwind visit to Dublin on Tuesday, 6 May. Hosted by Ógra Shinn Féin, Benn travelled to Ireland to speak at a number of meetings on the Lisbon Treaty.
At a packed meeting in Trinity College on Tuesday evening Benn spoke about the importance of democracy.
"Democracy took power from the market to the polling station and from the wallet to the ballot box" he said.
However, the current direction of the European Union, including the Lisbon Treaty, he argued, was moving in the opposite direction. Benn spoke of his experience on the Council of Ministers, and of the undemocratic nature of EU decision-making. He described the Treaty as being like a lobster pot, "easy to get in but hard to get out of".
Benn also challenged those who claimed that the anti-Lisbon campaign was Anti-European. "When Margaret Thatcher was prime minister I wasn't anti-British", he said, and went on to argue that he "wanted a different kind of Europe".
Sinn Féin's Eoin Ó Broin also addressed the meeting highlighting the impact of the Lisbon Treaty on workers' rights, public services, agriculture and the developing world, describing the Treaty as, "a bad deal for Ireland, Europe and the wider world".
Earlier that afternoon Tony Benn addressed a large crowd at the Dublin Institute of Technology in Bolton Street. The meeting was also addressed by Sinn Féin's Eoin Ó Broin and Richard Boyd Barrett of the Socialist Workers Party.
Loss of democracy
Benn focused on the increasing centralisation of power away from local and national democracy and into the hands of an unelected and distant EU bureaucracy. Quoting European Commission president Jose Manuel Barosso's infamous line that the EU was developing into an "Empire" Benn warned that the loss of democracy would have serious implications for the future of public services and workers rights.
In-between the two public meetings Tony Benn spoke to a number of journalists including NewsTalk's George Hook, who described himself as a "huge fan" of the former MP. Benn was also inundated with autograph hunters and hand shakers at the end of each engagement as activists young and old told the lifelong socialist of how he had inspired them to become involved in politics.
When Tony Benn stood down from elected politics 2001 he famously quipped that he did so to "devote more time to politics". His brief trip to Ireland, sandwiched between a host of engagements around Britain on campaigns for pensioners' rights and better public services demonstrated that at 84 the veteran campaigner has lost none of his energy or enthusiasm.