8 May 2008 Edition
North's investment conference must deliver real change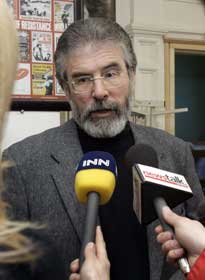 THE North's deputy First Minister Martin McGuinness heralded the US-NI investment conference as a potential catalyst for economic transformation in the Six Counties. A US delegation to the conference arrived in Belfast on Tuesday.
McGuinness said that the conference comes as the result of much hard work and planning that had already reaped rewards with the likes of the recent announcement of a $150million investment by the New York Comptroller Office. William Thompson the New York Comptroller, Duncan Niederaurer CEO of the New York Stock Exchange and New York's Mayor Michael Bloomberg are attending the conference.
"Our hope is that we can build on the good start that has been made and I believe that this conference will prove a major milestone in the ongoing transformation of our society", McGuinness said.
Speaking in advance of the investment conference, Sinn Féin President Gerry Adams said the event is "an important opportunity for business leaders to invest in a peaceful future, to tackle deprivation and build equality".
"New investment needs to promote sustainable development and equality of opportunity. The gap between the prosperous and poor has grown and any investment strategy must be designed to tackle this", Adams said.
"Public procurement, targeted investment and promoting equality of opportunity is part of this necessary work of delivering positive outcomes in the lives of those who need it most.
"This is about delivering meaningful change in people's lives. Investment strategies over the past ten years have failed to tackle  inequality, deprivation and social exclusion in a meaningful way. This has to change with future investment programmes.
"There is an opportunity for the business leaders attending to invest in a peaceful future, to help us tackle deprivation and inequality, and at the same time deliver for their own business needs. This is essential if we are to deliver our PFG commitment to build a modern and competitive economy", he said.