8 May 2008 Edition
Another union says 'No' to Lisbon Treaty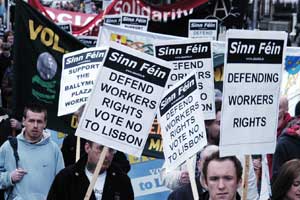 By Stephanie Lord
THE national executive of the Technical Engineering and Electrical Union (TEEU) has advised its 45,000 members to vote 'No' in the referendum on the Lisbon Treaty "as the pendulum has swung against workers' rights in favour of big business".
Unite the Union, representing both AMICUS and the ATGWU, has already urged members to vote 'No'.
TEEU General Secretary Designate Eamon Devoy said:
"In the circumstances it would be foolish to provide the institutions of the European Union with more power."
The circumstances he was referring to are the judgements in the Laval and Viking cases at the European Court of Justice which made the workers' right to organise subordinate to the rights of the EU to have free movement of goods and services. In the recent Ruffert case the Court found that a Polish sub-contractor operating in Germany was entitled to pay his workers less than half the agreed minimum wage for the construction sector because the right to provide unrestricted services took priority over collective wage agreements. Eamon Devoy said:
"The TEEU favours a Social Europe and many of the gains made by Irish workers in the past, in areas such as equality, can be attributed in large part to reforms agreed at EU level. However, in recent times governments of various member states, including Ireland, have blocked major reforms such as the draft directives on agency workers and the proposed ferries directive.
"Until such time as EU member states are prepared to recognise the right of workers to take industrial action in defence of their living standards, the TEEU will not support institutional reforms that only strengthen big business.
"If the Irish Government and the European Commission want popular support for the Lisbon Treaty they must strengthen the Social Charter and enshrine its provision in EU Law."
Sinn Féin Dublin MEP Mary Lou McDonald welcomed TEEU.
"I share the concerns raised by the TEEU and welcome their decision to call for a 'No' vote in next month's referendum. The Irish government had the opportunity during the Treaty negotiations to secure these rights but failed to do so. Instead they are now urging Irish workers to vote for a Treaty that will fundamentally undermine their rights and accelerate the race to the bottom. Vulnerable workers are being pitted against each other by unscrupulous employers who seek to undermine national pay agreements by bringing in 'cheap labour' from member states with lesser entitlements. Recent ECJ judgments have supported this practice and the Treaty will further underpin it", McDonald said
"The Protocol on the Internal Market and Competition Protocol within the Lisbon Treaty mandates the EU to ensure that 'competition is not distorted'. This provides the EU with a mandate to remove 'distortions' from the provision of services. Such distortions could include workers' rights regulations, as well as protective markets, state 'monopolies and public funding.
"The Charter of Fundamental Rights offers no extension of EU law in relation to fundamental rights as stated by Minister of State for Europe Dick Roche on 4 March 2008. He added that the Charter 'does not extend the field of application of Union law or establish any new power or task for the Union'. The Charter does not guarantee the right to strike and states (Article 28) that workers have the right to collective bargaining and to take strike action only 'in accordance with national laws and practices'. In light of the recent ECJ judgments this already weakened 'right' is further undermined", she said, adding: "The Lisbon Treaty is a bad deal for workers. Europe deserves better."