17 April 2008 Edition
Media View
Shock stories for Lisbon and Mexico
IT WAS CLEAR that the media world has gone into a strange place this week when Murdoch's Irish Sun and Associated Newspapers' Irish Daily Mail decided to get informative and accessible about the forthcoming EU Lisbon Treaty referendum.
"We haven't got a clue" was the screaming Sun headline on Monday, 14 April. The Irish Sun had commissioned a Red C poll which revealed that just 6 per cent of voters understand the treaty and, "A massive 65 percent of us have No idea what the Lisbon Treaty is all about," the Sun said.
Then there were two inside pages of comment on the poll complete with MEP Kathy Sinnott on why to vote 'No' while Dick Roche, Fianna Fáil Minister for Europe, made the 'Yes' case. There was even an editorial asking us to "vote wisely", outlining the transfer of powers under the new treaty and loss of a commissioner while we gain a new, unelected president. The Sun even went as far to ask, "Is this acceptable and more democratic?" and advises, "Don't be arm-twisted into blindly voting 'Yes'."
But The Irish Sun was not alone on the Lisbon Treaty bandwagon. Enter the Mail, which also ran with a Lisbon Treaty story on page 1 last Monday. "The Treaty Con" was the Mail headline, revealing that a leaked e-mail exposed "Government plans to hoodwink voters."
The Mail claimed that Foreign Affairs Minister Dermot Ahern has been "personally assured that the European Commission will tone down or delay any announcements from Brussels that might be unhelpful".
The leaked memo also disclosed that the Irish Government "have picked 29 May for voting but will delay an announcement to keep the 'No' camp guessing".
When the other Irish media outlets got onto the EU agenda this week it was to publicise German Chancellor Angela Merkel's visit to Ireland to give her "please vote for the treaty" line.
So it seems that there are many other double standards in the media this week as these papers were silent about the Daily Mail exclusive. When the Lisbon Treaty campaign begins in earnest it will be interesting to see how balanced the big Irish broadsheets will be.


WHO would have thought it? Just ten years to the day after the Good Friday Agreement and I found myself bemoaning not being a British citizen? By being merely a Free Stater one can see the promised media land glistening across the border but it is all too tantalisingly out of reach as I fell victim to not one but two media double standards this week.
In the 26 Counties (or Mexico, as some of my Northern comrades persist in calling it), we can watch the BBC, even getting, through fibre optic cable, full access to BBC 24 as well as BBC3 and 4 with their sneaky previews. Through my high-speed broadband I can access the latest breaking news across the entire BBC online network.
When the Beeb announced the launch of their new iPlayer, which would allow you catch up on missed programmes online, I was delighted. It was all coming together, except the iPlayer is only accessible to people living in "Britain", so the Texans, north of the border, get it by default.
Now with over 42 million programmes watched since its Christmas relaunch, internet providers in Britain are complaining that the iPlayer is putting too much strain on bandwidth demand, but don't expect much sympathy down Mexico way. I was thinking of calling on true republicans not to use the iPlayer but my pleas have so far been met with silence as the Northerners catch up on missed episodes of The Apprentice, Ashes to Ashes and, apparently, Dawn Gets Naked.
My ire at the BBC apartheid turned to fury when I realised that though the billionaire Barclay brothers will gladly take my euro when buying their Daily Telegraph it seems that they aren't prepared to allow their Irish readers to enjoy freebies given to "British" Torygraph buyers.
So I will miss out on the six-DVD Thatcher collection, offered free this week, day by day, to British readers (and even the applications by post are open to 'UK' addresses only).
Of particular interest was Tuesday's Age of Dissent DVD which covered the 1980s when "the IRA unleashed a wave of bombings, even targeting the top echelons of the Conservative Party". The DVD promised to chronicle Thatcher's "volatile relationship with Northern Ireland". Only the Telegraph in all its pomp could hype such nonsense, not the least of which being the notion that it was OK for the IRA to have a bombing campaign in Britain but targeting their beloved Maggie was all a bit rum.

An Phoblacht Magazine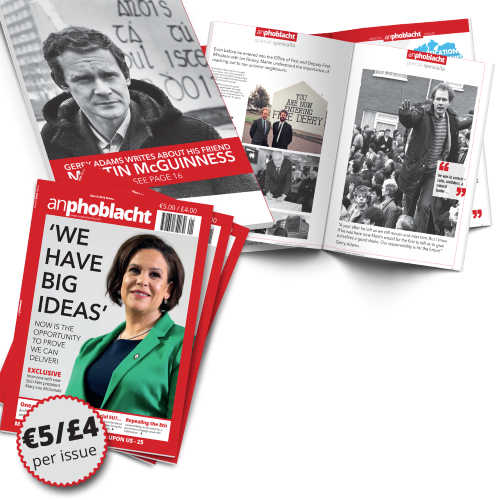 AN PHOBLACHT MAGAZINE:
The first edition of this new magazine will feature a 10 page special on the life and legacy of our leader Martin McGuinness to mark the first anniversary of his untimely passing.
It will include a personal reminiscence by Gerry Adams and contributions from the McGuinness family.
There will also be an exclusive interview with our new Uachtarán Mary Lou McDonald.
test