17 April 2008 Edition
Matt Treacy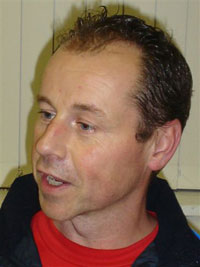 Are you smarter than a Celebrity Bainisteoir?
I'VE ONLY SEEN bits of Celebrity Bainisteoir but, sure, not having seen things has never stopped me talking about them before. The main reason I have mostly missed it is that it clashes with The Simpsons and Ciara never misses The Simpsons even if she has seen the same episode 20 times. Either that or Are You Smarter Than a Ten Year Old? which provides her with another opportunity to match her wits against my declining mental powers. Her Lisa to my Grandpa Simpson.
But back to Celebrity Bainisteoir. My uncle was part of the Dublin senior hurling management for a long time and this inclined him, and myself as a young observer, to be somewhat fatalistic about sport and indeed life in general. Something I know that is belied by my sunny disposition.
One time Dublin were 15 or 16 points behind Limerick at half-time in a league match in Croke Park. Having sat in the dug-out for a minute or two in something approaching despair, the uncle brought me into the dressing room where Seán Moyles was roaring blue murder and hammering a stick on the table. The boys were looking very sheepish and displaying a close interest in their boots or the floor.
Seán noticed the uncle and asked him did he want to say anything. Treacys generally do not unless drinking or otherwise caught up in a rare moment of elation. So he just looked around at the bowed heads and said: "I don't know what to say to you lads. What's the point?" And back we went to the dug-out. Samuel Beckett as hurling mentor. As we did, someone behind us said: "Fuck it, lads. Let's give it a lash." And they did and they either won or only got beaten by a point or two, as was often the case for the Dublin hurlers in those days.
None of the Celebrity Bainisteorí from what I have seen are much into the classic blood and guts type pre-match speeches. Even though I suppose people were hoping that Jon Kenny might have imitated his Unbelievables partner Pat Shortt in exhorting his charges to "make every pull a funeral".


THE most common approach seems to be a kind of west coast pop psychology "You deserve it, lads" sort of crap. Can you just imagine Ger Loughnane telling the boys: "Go out there now and enjoy yourselves. You deserve it." Oh, no.
Nell McCafferty was at least honest enough to admit that her response to seeing her charges, Faughanvale, being beaten would have been churlish. But also that she was genuinely surprised by the hospitality and good grace of the Galtee Gaels club who they had beaten.
Which, of course, is one of the great things about the GAA and sport generally. That when it is all over you shake hands and behave in a civilised manner. Even if what has gone before has not been quite on the same level.
I'm not sure from what I've seen whether Nell shares her philosophical ruminations on 'maleness' and all that with the players. Perhaps it's a small tendency that one sometimes finds among people who don't play sport to denigrate it as somehow of lesser value than, well, not playing sport or that sport is somehow hostile to or damaging of higher things of the intellect. As for the aggression and whatever, she's obviously not met too many camogie or women's football or hockey players.
Unfortunately the programme does not really get into the details of preparation and training, nor of the input of the real experts who are there to provide 'technical' assistance. That is of far more value to the teams concerned than their momentary basking in the sunlight of celebrity. Although I have to confess that I had never heard of Baz Ashmawy, Glenda Gilson, Aoibhinn Ní Shúilleabháin or Gerald Kean in my life. I don't get out enough, obviously. Or maybe I don't watch enough television apart from The Simpsons.


THE GAA Congress was held at the weekend. Christy Cooney was elected to succeed Nicky Brennan as president in 2009. Cooney is from Cork so if the players go on strike next year it will be resolved by awarding them the league. Only joking, of course.
Despite the challenges to the players' grant scheme it was passed by an estimated margin of three to one. The anti-grants campaign, which had seemed to be gathering momentum earlier in the year, was to all intents and purposes derailed by the Disputes Resolution Authority (DRA) finding that it did not impinge upon the amateur ethos of the association.
It clearly does if county players are going to be paid and if there is a distinction between counties themselves. Pretending that it does not will not evade the issue and it will be interesting to see how the situation develops and whether the grants are merely a stepping stone towards other demands from the GPA.
The players do, on the other hand, have a valid point regarding payments to managers and trainers and the belief, right or wrong, that financial inducements are sometimes used to persuade players to change clubs and even counties. Opponents of the grants believe that clubs who do engage in such practices were reluctant to oppose the grants either from a feeling that it would be hypocritical of them to do so or fear that the GPA might even highlight this.
Congress also decided to make the wearing of helmets compulsory for all players from 2010. That already applies to all grades from under-21 down but there are many adult players who dislike them. Personally, I think any player over 21 ought to be given a choice. It is one's own noggin at the end of the day after all.

An Phoblacht Magazine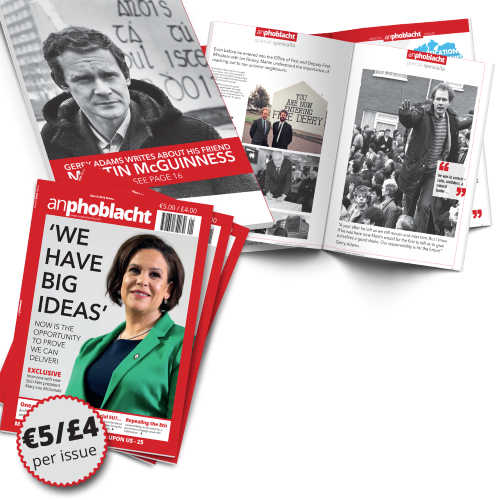 AN PHOBLACHT MAGAZINE:
The first edition of this new magazine will feature a 10 page special on the life and legacy of our leader Martin McGuinness to mark the first anniversary of his untimely passing.
It will include a personal reminiscence by Gerry Adams and contributions from the McGuinness family.
There will also be an exclusive interview with our new Uachtarán Mary Lou McDonald.
test