17 April 2008 Edition
Finglas: Facing the challenges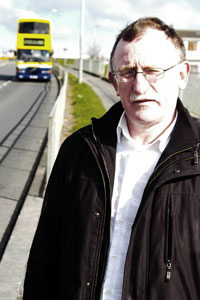 IN the aftermath of a period of heightened violence in Belfast, Limerick and Dublin An Phoblacht investigates the underlying factors involved and the strategies emerging nationally to address the problem. The residents of both communities are seeing the need to take initiatives designed to get to the core of the problem and put effective preventative measures in place.

By Ella O'Dwyer

ST PATRICK'S DAY this year saw the Finglas area of Dublin City flung into mayhem as a hundred young people began rioting and breaking into cars in the Berryfield and Cardiffsbridge Road neighbourhoods. The disturbances began at about 1pm, peaking at around 4pm that afternoon. Seventeen people were arrested.
Sinn Féin Councillor Dessie Ellis had been attending the IRA Volunteer Tom Smith commemoration in the city when he first heard reports of disturbances.
"This went on throughout the day. People had begun drinking from about 11am and then, around 1pm, the trouble started. Vehicles were burnt in the Berryfield area. I got reports of the trouble around 3pm and I got onto the Garda inspector to find out what was being done because people were terrified. They were locked in their homes afraid to come out. The Garda Public Order Unit was called to the scene.
"The gardaí were taken aback by the large amount of people involved and they had to be pulled back until the Public Order Unit were brought in to restore order."
Dessie Ellis says that the disturbances were obviously fuelled by alcohol and possibly by drugs.
"I think a small number of people planned it and then others joined in. There's a proliferation of shops selling alcohol and all competing with each other. There are also services where alcohol can be delivered merely by making a phone call to a takeaway service. So if the delivery person arrives at a house where there is a group of under-age drinkers they might feel too intimidated to take the alcohol away again."
Councillor Ellis shows his dismay about the whole incident:
"A lot of services have been brought into Finglas over recent years so it was disappointing to see this happen. Then Dublin Bus management and unions got concerned about the safety of crews on a number of bus routes and several services to Finglas South and Finglas West were curtailed over the Easter weekend due to attacks on drivers or were rerouted in order to bypass the more troublesome areas. I spent three and a half hours negotiating with the bus unions, Dublin Bus and the gardaí on Good Friday. Out of that meeting the unions went back to their members and we got a resolution.
While clearly disturbed by the incidents in Finglas, Ellis can identify the underlying problems confronting young people in the place where he himself grew up.
"There's no excuse for that kind of violence and there had been a number of incidents before St Patrick's Day but these incidents should focus people on addressing the isolation sometimes felt by young people in areas like Finglas.
"Finglas is an area with a lot of social problems with people who have been left behind by the Celtic Tiger. But it's not enough to just have more services alone. Young people in places like Finglas tend to be territorial in the sense that they won't leave their own areas to avail of facilities in another part of Finglas and at that rate you'd need community centres all over the area. It's important that the territorial mindset be changed and to do that we need a lot more outreach workers here."
One thing that could help is a youth forum based on the co-operative model of the community safety forums, where all the relevant agencies and interest groups meet to discuss issues and solutions, Dessie Ellis says.
"We need to draw young people into forums to tease out the reasons why they're getting into trouble. We'd be calling on already existing youth organisations to come on board to establish the forum. If we're to realistically make inroads on the problems relating to youth we have to reach children at an early age."
"I was at a Safety Forum meeting in Ballymun last night where members of the public, the gardaí and representatives of Dublin City Council come together to look at the issues in the area.
"These forums meet every six or eight weeks and allow us to monitor developments between one meeting and the next and see what actions have been taken. Pressure would be put on the Garda to put extra resources where they are needed. We have two new police stations being built, one in Ballymun and the other in Finglas and there will be increased camera surveillance. These new stations came from public pressure. The existing Garda station is a disaster; even if we got additional gardaí there wouldn't be room for them there.
Dessie Ellis believes that people in Finglas have a fear of reporting crime to the Garda in case of retaliation and believes that increased Garda visibility would help reduce that fear.
"There are confidential phone lines but there's a lot of unreported crime in Finglas and areas like it. There's a great fear of reporting crime. People don't feel they get the protection they need. We need more Garda resources and for more gardaí to be visible in the area. I think that will give confidence to people to see Guards in areas instead of just driving in and out. We do have the Joint Policing Committees and I'm vice-chair of the north-west committee."
From Finglas himself, Ellis sees the many positive aspects to life there.
"When I grew up it was mostly open fields, less built-up. Disputes back then would be dealt with on a one-to-one basis. Nowadays people would be afraid that if they get into a dispute with one person they'd end up being confronted with a gang. But there's always been a great community spirit here and there still is. We've loads of different football clubs, for instance Erin's Isle GAA club. The teams go on tours and have a whole social life built around them. We've what's called the Senior Citizens' Parliament where people can influence politicians to address their needs.
"The senior citizens are a substantial body of people with a big voice. If the senior citizens decided to support one group or another they would have a very powerful voice. If things aren't happening to their satisfaction they can voice their opinions with great effect. Young people can do the same."

An Phoblacht Magazine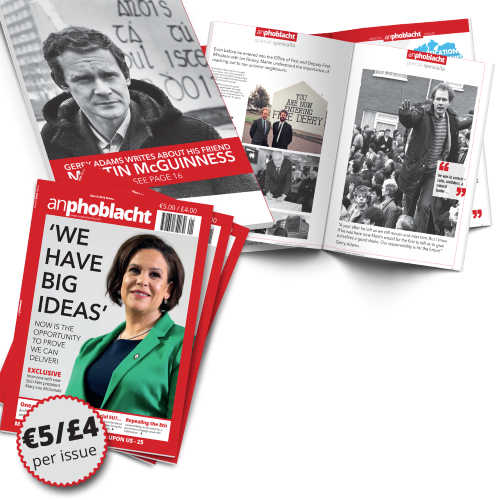 AN PHOBLACHT MAGAZINE:
The first edition of this new magazine will feature a 10 page special on the life and legacy of our leader Martin McGuinness to mark the first anniversary of his untimely passing.
It will include a personal reminiscence by Gerry Adams and contributions from the McGuinness family.
There will also be an exclusive interview with our new Uachtarán Mary Lou McDonald.
test