17 April 2008 Edition
Lisbon deception
REVELATIONS about efforts by the Fianna Fáil/PD/Green Government and the European Commission to deceive Irish voters in the forthcoming referendum should be a wake-up call to those who may underestimate the importance of the Lisbon Treaty.
As we report this week, leaked emails show the Commission attempting to tread carefully and tone down or delay any 'unhelpful' announcements or statements that might damage the prospects of a 'No' vote. Such announcements would reflect the reality which the Irish government and the rest of the 'Yes' side wish to conceal – that Irish sovereignty and neutrality are further undermined by this Treaty, that it is bad for public services and bad for workers.
Irish governments have sought repeatedly to deceive the public about the reality of deepening EU integration. Before accession to the then EEC, Irish Government ministers attempted to drum up support by claiming that membership would help to end partition. There was no referendum on any EU issue between the referendum on joining the EEC in 1972 and the Single European Act referendum in 1987. If successive governments had had their way there would have been no referendums at all. They were forced to consult the people because they lost a constitutional case taken by a private citizen.
Bertie Ahern in opposition in 1996 opposed membership of NATO's so-called Partnership for Peace (PfP) without a referendum. In Government he joined the PfP. There was no referendum. He refused to implement the decision of the people who rejected the first Nice referendum and he forced a second referendum.
The EU refused to implement the decision of the people of France and the Netherlands who rejected the draft EU Constitution. Instead the EU political elite repackaged the Constitution and called it the Lisbon Treaty.
In an adoring book on the EU, English author Mark Leonard has written: "The problem is that Europe's democratic revolution has gone largely unnoticed by its citizens." Such is the self-deception of those who think the development of a bureaucratic super-state is a democratic revolution. While Leonard may actually believe this, the political elite in the EU know that the Lisbon Treaty has nothing to do with strengthening democracy. It is all about retaining more power at the centre. Deception is being deployed by this EU elite and their Irish adherents to get their way. The best answer to them is a resounding 'No' vote.

An Phoblacht Magazine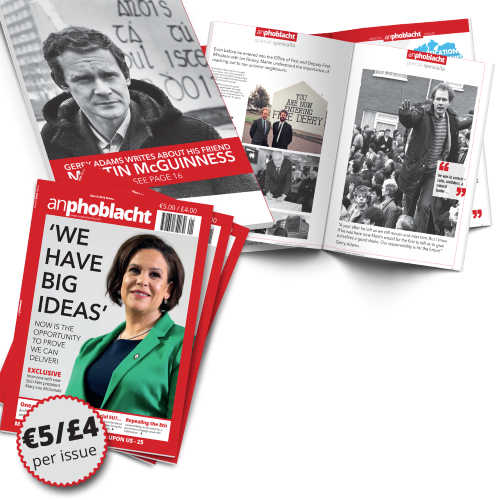 AN PHOBLACHT MAGAZINE:
The first edition of this new magazine will feature a 10 page special on the life and legacy of our leader Martin McGuinness to mark the first anniversary of his untimely passing.
It will include a personal reminiscence by Gerry Adams and contributions from the McGuinness family.
There will also be an exclusive interview with our new Uachtarán Mary Lou McDonald.
test