10 April 2008 Edition
Matt Treacy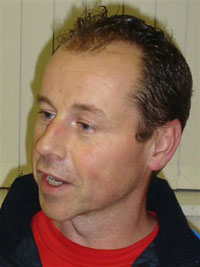 A confusing but serious endgame
THE National Football League enters its final stages this weekend with all the major issues of final places, promotion and relegation due to be decided except for Divisions Two and Three where the postponed Dublin v Armagh and Down v Limerick matches are stand-alone fixtures before the last round on Sunday week.
In the top flight, the final places will depend on the outcome of the games between Galway and Kerry and Donegal and Derry. All are still in with a chance. Galway are best placed with 10 points but could still be overhauled on points difference if Kerry beat them by three points and Derry win or Donegal beat Derry by six points or more. So there will be lots of people poring over calculators at around 4 o'clock Sunday.
At the other end of the table, Laois are already relegated and Kildare will join them unless they beat Laois comfortably and either Mayo or Tyrone get a hammering at the other's hands. Kildare's best hope of survival would be a big win over their neighbours and for Tyrone, who have a worse points difference than Mayo, to be beaten by five or six points – not something that happens regularly in Omagh. Mayo would have to suffer a fair thrashing to leave them in danger even if Kildare do win.
Division Two has been complicated by the postponement of the Armagh v Dublin match and the penalty imposed on Cork which means that points difference cannot be taken into consideration for promotion or relegation. If teams finish in the same position there will have to be a play-off.
Dublin only need one point from their two games to qualify for the final, but if they should lose both then they will be involved in a play-off with Meath. Indeed, there could even be a three-way play-off. If Monaghan beat Westmeath then they are safe and Westmeath are out of contention but if there is a draw then Monaghan are also safe but Westmeath will be in a play-off with Meath and Dublin if Dublin lose both their games. If Westmeath beat Monaghan and Dublin lose both their games then Westmeath will be in the final and Monaghan will join the play-off. And finally... if Dublin win or draw at least one of their games AND Westmeath beat Monaghan then it will be a Dublin v Westmeath final. Confused? Good.
At the other end of the table, Roscommon are already relegated. Cavan could still stay up if they beat Roscommon (which they should do) and if Dublin and Cork beat Armagh (which is not as certain!). It will at least force certain Cavan people of my acquaintance to support Dublin for the first time in their lives. Ah, sweet hubris. If Cavan win and Armagh lose then they play off for the dubious honour of playing in Division Three next year. There is also still the possibility of appeals based on the Cork affair.


DIVISION THREE is likewise on hold because of the Down v Limerick match, which also fell victim to the weather. Fermanagh cannot be overhauled but Wexford are in a rather more precarious position as, should Down beat Limerick and Fermanagh and Wexford lose to Louth, then points difference will come into play.
There is also serious business at the other end where Longford, Leitrim, Limerick and Sligo are all in potential danger of being relegated. If Down beat Limerick and Limerick do not beat Leitrim in their last match then they are gone. If Sligo beat Longford then points difference, with Leitrim if they lose to Limerick or Limerick if they only pick up a point in their two games, will decide the outcome. Survival is vital as teams playing in Division Four are out of the senior championship if they lose their first round provincial tie. Something that would represent a severe loss of caste for any of those four teams.
Which, of course, is why getting out of the lower tier is so important. Offaly have already secured promotion and a place in the final but the second spot is still theoretically up for grabs should Waterford win both their final two matches, including one against Antrim or should Waterford beat Antrim and Tipperary win their last two games. I say theoretically because Antrim are unlikely to slip up at home to Waterford.
At the other end there is nothing worse that can happen to either Kilkenny or London, who have lost all their games and conceded a grand total of 35 goals and 218 points. The only thing that remains is for the two to play one another in Freshford on Sunday. The winner will secure bragging rights and at least some comfort to maybe encourage themselves to greater things in the Tommy Murphy Cup and next year's league.
Loathe as I am to even mention it, tribute ought to be paid to the Cork hurlers and footballers for their performances in this year's league. Despite being docked four points, the footballers have comfortably avoided relegation and would have been in strong contention for promotion had it not been for their sole defeat to date against Cavan.
The hurlers comfortably saw off the challenge of Limerick last Sunday to earn a semi-final meeting with Galway. That will be an interesting clash featuring a team that some believe has seen its best days and the one that many think will present the biggest challenge to Kilkenny over the next few years.
The Cats, meanwhile, meet their old Nemesis, Tipp, in the other semi-final with the latter hoping to further refine a team that clearly has potential but which has failed to fire on all cylinders on the big days. Likelihood is for a Kilkenny v Galway final and a preview of what might happen later in the year.

An Phoblacht Magazine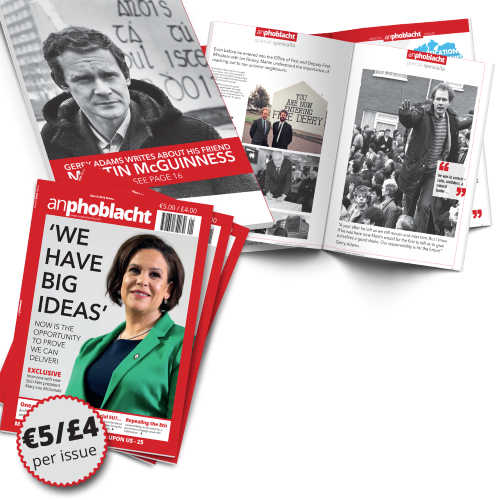 AN PHOBLACHT MAGAZINE:
The first edition of this new magazine will feature a 10 page special on the life and legacy of our leader Martin McGuinness to mark the first anniversary of his untimely passing.
It will include a personal reminiscence by Gerry Adams and contributions from the McGuinness family.
There will also be an exclusive interview with our new Uachtarán Mary Lou McDonald.
test