3 April 2008 Edition
Irish politics after Bertie Ahern
Bertie Ahern clearly saw the signs that his own party would grow increasingly restless with him as leader in the run-up to the local government and EU elections next year. He is stepping down in the short term to avoid a heave and an internal battle in Fianna Fáil. He will be gone as Taoiseach and as leader of Fianna Fáil in the wake of his address to the US Congress. Such an outcome was predicted by An Phoblacht at the start of this year.
Glaring contradictions in Bertie Ahern's evidence have been exposed at the Mahon Tribunal. His credibility has been shredded and he was increasingly drawn into the process of attempting to retrieve that credibility. All the signs are, despite his 'good day in court' on Tuesday, that his Tribunal troubles are going to worsen. It had become a question of when rather than whether he would announce his departure.
Ahern built on the work of his predecessor Albert Reynolds in the Peace Process and played a key role in the negotiation of the Good Friday Agreement. The developing all-Ireland political process will require renewed energy and a more vigorous approach from Bertie Ahern's successor.
While Ahern governed during a time of unprecedented economic prosperity he and his governments failed to harness that prosperity to create equality and to build public services with access for all on the  basis of need. He presided over a healthcare system that is a disgrace and which represents the single biggest failure of government in the 26 Counties over the past decade.
The departure of Bertie Ahern offers the opportunity for a change of direction and a change of policy. If those Fianna Fáilers who claim to be on the side of their communities and disagree with government health policy are sincere then they should use this opportunity to bring about such a change.
What will politics be like after Bertie Ahern? Fianna Fáil will face a major challenge in attempting to continue with the unprecedented electoral success and internal cohesion they enjoyed under his leadership. That in itself opens up new opportunities for the left in Ireland, including Sinn Féin. We need to consider the realities of post-Ahern politics and see how we can advance in this new era.

An Phoblacht Magazine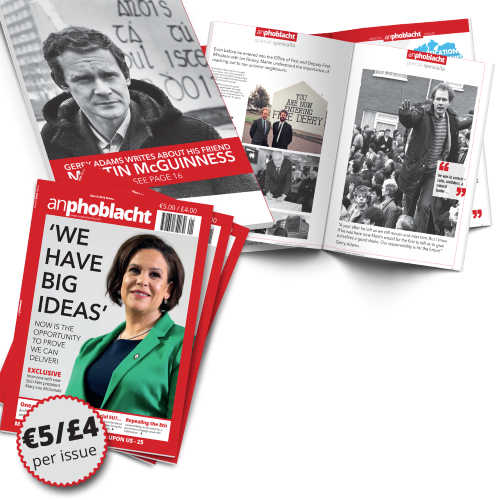 AN PHOBLACHT MAGAZINE:
The first edition of this new magazine will feature a 10 page special on the life and legacy of our leader Martin McGuinness to mark the first anniversary of his untimely passing.
It will include a personal reminiscence by Gerry Adams and contributions from the McGuinness family.
There will also be an exclusive interview with our new Uachtarán Mary Lou McDonald.
test