27 March 2008 Edition
Fifth Column
Fine Gael poster girl for 'No to Lisbon'
TD LUCINDA CREIGHTON, the poster girl of Fine Gael is now the poster girl of  'No to the Lisbon Treaty' group Libertas, and the blonde bombshell isn't one bit pleased.
Libertas has placed billboard posters around Lucinda's Dublin South-East constituency reminding voters of her stated belief that, "We need a European army."
Libertas adds helpfully: "She's voting 'Yes' to Lisbon. Are you?"
The Blueshirt babe pouts: "Libertas would be better off trying to inform people about what's actually in the treaty."
Er, moves towards your dream European army are exactly what's in the treaty, Lucinda.

De Rossa's disrespect
AT least Lucinda's upfront about her views, unlike Labour Party President Proinsias de Rossa and Green Party Senator Dan Boyle.
De Rossa isn't very vocal about his vote for a motion in the European Parliament not to respect the democratic vote if Irish people reject the Lisbon Treaty, which is a bit odd for the former leader of Democratic Left.
And Green guru Boyle backed the vice-president of the European Green Party, Pierre Jonckheer, when he arrogantly dismissed the Irish vote as "irrelevant" and should be ignored.


PD treason try
ARTHUR MORGAN could be thrown out of the Dáil and charged with treason, if the Progressive Democrats have their way.
So what has our mild-mannered Arthur done to have the PDs screaming for the firing squad? Did he sell the floor plans of the Leinster House gym to the Russians? (Oh, no – the Workers' Party have probably already done that.) Did he take a bribe for using his political influence to enrich fat cat speculators? (Oh, no – lots of the PDs' partners in government have done that.) Did he provide aid to a foreign army to wage war? (Oh, no – the PDs, Fianna Fáil and the Greens are doing that at Shannon.)
No, what Arthur is guilty of in the eyes of PD Dublin City Councillor John Kenny is a Dáil attack a couple of weeks ago on a PD/FF/Green proposal to give tax breaks to private hospices while tax exiles are coining it overseas.
Our Arthur let Tánaiste Brian Cowen have it, arguing that "a jackass" could have run a booming economy but Fianna Fáil has made a pig's ear of public services.
"Yesterday we touched on the notion of social conscience and the Tánaiste came back to me, for which I am glad. There is more social conscience in a cat's arse than there is in the entire Fianna Fáil parliamentary party."
But it wasn't Arthur's allusion about a cat's arse and the collective conscience of Fianna Fáil's fat cats that bothered the only PD councillor in Dublin City (maybe he agrees because he's also said Bertie Ahern should resign). No, it was another Morgan broadside in the same speech that had Kenny caterwauling.
"What the Tánaiste is proposing," Arthur said, of the tax breaks for hospice privateers, " is an absolute scandal. Why would I expect any different from a Tánaiste and a government over this partial parliament in this little semi-statelet over which he is presiding?"
That's what's really had Councillor Kenny squealing like a scalded cat.
"If Mr Morgan does not resign now he should be charged with treason and expelled from the Dáil," the PD councillor thunders in a letter to The Irish Times.
Hark, is that the wheels of the tumbrel I hear coming to carry poor Arthur Morgan off to the Tower or the guillotine? Or is it the trolley to strap Councillor Kenny onto on his way to the funny farm?


The Powell behind the throne
JONATHAN POWELL, Tony Blair's chief of staff (or "chief firefighter") at 10 Downing Street for 12 years, was a key figure in the Irish Peace Process and his new book on this historic era, Great Hatred, Little Room: Making Peace In Northern Ireland (Bodley Head), has some interesting anecdotes.
Powell tells of how Gerry Adams unsuccessfully tried to engage Ulster Unionist Party leader David 'Lord Snooty' Trimble across a urinal when he might have got more satisfaction from shoving Trimble's head in it.
When Blair told the world's media after he'd flown in to the North  in 1998, just before the Good Friday Agreement was signed, "A day like today is not a day for, sort of, soundbites, really – we can leave those at home –" before delivering the soundbite "but I feel the hand of history upon our shoulders, I really do," Powell says that him and Alastair Campbell were left in "fits of giggles".
In 2006, when Scotland Yard was quizzing Blair, Powell and other senior Labour figures about the 'cash for honours' allegations, Powell reveals that Gerry Adams rang Blair "to express his solidarity and ask if Tony and I would seek political status if we went to prison. He recommended that we not recognise the court."
* Powell reveals his role as Tony Blair's man-behind-the-scenes and his secret negotiations with Sinn Féin in one of a series of BBC TV and radio programmes to mark the 10th anniversary of the Good Friday Agreement: The Undercover Diplomat (Monday, 7 April, BBC2).

An Phoblacht Magazine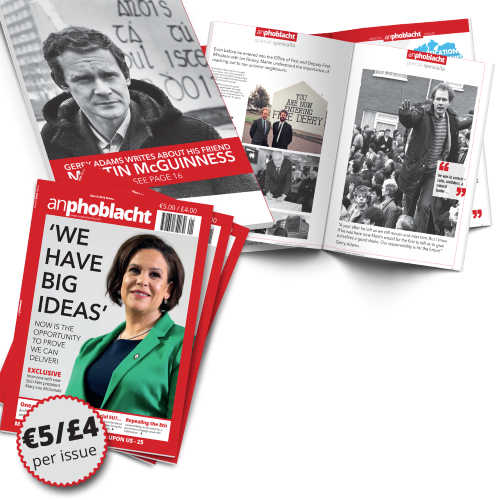 AN PHOBLACHT MAGAZINE:
The first edition of this new magazine will feature a 10 page special on the life and legacy of our leader Martin McGuinness to mark the first anniversary of his untimely passing.
It will include a personal reminiscence by Gerry Adams and contributions from the McGuinness family.
There will also be an exclusive interview with our new Uachtarán Mary Lou McDonald.
test