27 March 2008 Edition
Media View
Light at the end of Tribunal tunnel?

THERE is a sense, slowly growing among journalists who have seen too many false dawns at the Mahon Tribunal, that last week might just have been a turning point. The testimony of Gráinne Carruth, Ahern's former secretary, was damaging not just for what she said, when she accepted she made sterling lodgements of more than €15,500 she had first denied, but how she said it.
The perception was of a woman whose misplaced loyalty to Bertie Ahern had been abandoned by the man she had worked for and stood by. The contempt for Ahern dripped off the page of Miriam Lord's piece in the Irish Times the next day as she described her response to questions from Tribunal Counsel Des O'Neill.
"Why didn't she call Bertie? [O'Neill asked]
Carruth's voice began to crack.
"Because I'm hurt."
"Because why?"
"I'm hurt."
"You're hurt?"
"Bertie Ahern's former office secretary began to cry.
"And I'm upset."
"Yes," soothed Des. "And what is upsetting you about your evidence before the tribunal today?"
"Because it's taking me from my family, and that's why I'm upset," sobbed Carruth.
"Is there any other reason, Ms Carruth?" asked Des, softly.
There was a tortured pause.
"I just want to go home."
"A proud day for Bertie. A proud day for his Ministers, and the rest of his parliamentary party inbertiebrates."
It was not that Ahern has been caught, again, not being truthful with the Tribunal, it is that he sent his secretary out to defend him and that a tide seemed to have turned was confirmed by a report in the Sunday Tribune referring to a survey they did of 60 Fianna Fáil councillors from across the state.
"Over a third, 36%, of the councillors contacted as part of the survey said they did not want Ahern to lead them into the 2009 local elections...there are widespread predictions from inside the parliamentary party that Ahern cannot survive the revelations and will be forced to stand down by the summer.'
Maybe at long last the light is visible at the end of the tunnel and here's hoping that for Bertie, the light is an oncoming train.


John Coulter in Monday's Irish Daily Star marked the anniversary of the Easter Rising with a bizarre opinion piece arguing that Sinn Féin should take its seats in Westminster concluding with the line 'Spare me the shite that it'll never happen...just have a peek at Stormont Hill when it comes to miracles'.
Truly, he is Wilde come again.
But the most entertaining part for me in what was a hugely enjoyable rant, if you like that sort of thing, was the bit on democracy.
"In a hung Commons, the Shinners could enter a Celtic pact with the Scottish and Welsh nationalists – but they need to ditch abstentionism and prove they have a truly democratic political party. If Shinners sit in the Dáil, Stormont and Europe, it's just plain nuts to ignore the Commons."
Leaving aside the sheer pointlessness of attending Westminster, as any examination of the voting and speaking record of those parties who do attend can attest, Coulter seems to be suggesting that taking an Oath of Allegiance is part of proving Sinn Féin in a truly democratic party.
He also seems puzzled, or ignorant, of why republicans could fail to do such a thing, explaining nowhere in the article the reasons republicans refuse to sit in Westminster.
Perhaps he could be best answered by Sinn Féin's Martin Ferris TD, quoted in the Times at the Easter commemoration in Ardmore, County Waterford.
"Sinn Féin is opposed to a state visit by the British monarch or by members of the British royal family to any part of Ireland," he said.
Ferris said however that such a stance was consistent with a desire to maintain friendly relations with Britain.
"The British government still claims jurisdiction over part of Ireland and this is expressed through the monarch who claims to be queen of the "United Kingdom of Great Britain and Northern Ireland".
"Sinn Féin regards that claim as illegitimate and we will not participate in any welcome for the British monarch," he told the crowd.
"As democrats and republicans we are implacably opposed to an outdated and archaic system of government that has at its head a monarch," he said.
Refusing to take an Oath of Allegiance is not anti-democratic, it is the very basic principle of republican democracy and has been for centuries.
That great republican writer Thomas Paine simply called it 'common sense'. John Coulter could do with a bit of that.

An Phoblacht Magazine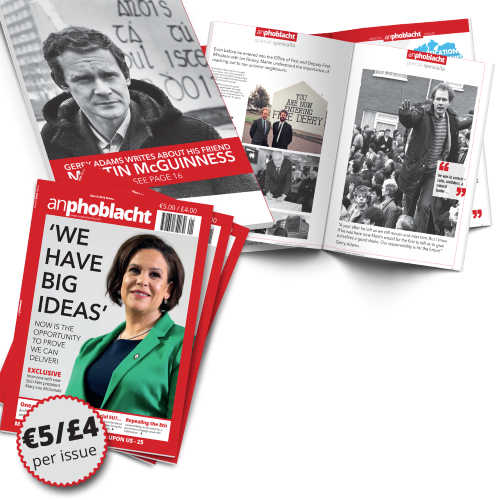 AN PHOBLACHT MAGAZINE:
The first edition of this new magazine will feature a 10 page special on the life and legacy of our leader Martin McGuinness to mark the first anniversary of his untimely passing.
It will include a personal reminiscence by Gerry Adams and contributions from the McGuinness family.
There will also be an exclusive interview with our new Uachtarán Mary Lou McDonald.
test