27 March 2008 Edition
Matt Treacy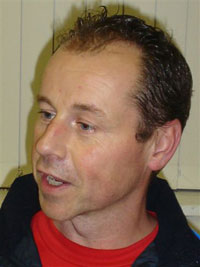 Shifting parameters of hurling's elite division
I DIDN'T get to see the Dublin Monaghan match because I was in Wexford, home of the real star of the show Syl Doyle. He was the referee by the way. Monaghan only scored one point from play and rarely looked dangerous but when you are awarded close in frees for little or nothing you don't have to be overly concerned about such minor aspects of the game.
But perhaps that is unfair as had Dublin converted their domination of the game into scores they would have won easily. They were lethargic in the first half and instead of going in ahead against the wind were three points behind. They only woke up when Monaghan extended their lead to five and quickly turned the deficit into a four point advantage. A margin that should have been twice that had it not been for Bernard Brogan's uncharacteristic generosity in front of the goal and a few bad misses.
Failure to finish the job allowed Monaghan to benefit from Mr. Doyle's generosity and the spoils were shared. Clearly both sides have it in the back of their mind that they will meet again in the summer – actually they might very well meet again in the league final – and so there was an element of "getting to know" one another about the whole thing.
While giving and taking a few belts was the traditional way of doing so, nowadays there is a much greater element of constant mouthing, personal abuse, sly off the ball digs and diving and exaggerating injuries in order to get opponents sent off. Jason Sherlock has been at the butt end of such abuse since he was a minor and has dealt with it well over the years. Other Dublin players need to take a leaf out of his book. While giving a player a genuine reason to rehearse the last moments of the Dying Swan may be satisfying, it is no substitute for beating them the only place where it matters – on the scoreboard. Gooch faced with similar aggravation last summer provides a good template.
But as the man said, it's still only March and nothing to be getting excited about. Teams that field their strongest side and are at their peak this time of the year rarely feature when the days grow long and the grass is short. Who won the league last year. Anyone?
The hurling leagues ended their divisional stage at the weekend. Kilkenny and Galway go through to the semi finals where they will meet the winners of the quarter finals between Tipperary, Limerick, Cork and Waterford. The latter two have to play to decide who is designated second and third as points difference cannot be taken into account due to Cork's failure to play their first two games. Ironically the Waterford match was one of those which Cork missed so they will have almost played their full compliment of games and will be pleased to have qualified for the play offs.
While Wexford argued that the Cork affair should also have meant that they played Dublin to decide who joined Antrim in Division Two, the Central Competitions Control Committee decided on Tuesday that as all three bottom teams had played Cork that score difference could be taken into consideration and therefore that Dublin's superior standing meant that they would stay up and Wexford would go down. Thus ensuring Dublin's third year in succession in the top flight for the first time since I think the late 1980s.
Relegation is a far more serious proposition in hurling than in football. And all the more so given the constantly shifting parameters being applied to the elite division which means, as far as I know and one can never really be sure as they've changed the rules in each of the last two years, that no team will be promoted from Division Two this year. And that only two of the four teams being relegated this year will have a chance of regaining their status in 2010.
That is potentially calamitous for all four concerned and of course also constitutes a massive impediment in the way of counties like Westmeath and Carlow who must sometimes wonder what the point in trying to win a lower division is.
Relegation will be of particular concern to Offaly and Laois and while Wexford will suffer a loss of caste they are probably in better shape to win promotion than either of the former. As arguably are Antrim who are used to this sort of thing and will possibly be better prepared mentally to cope with the demands of the lower flight.
As we've said before, however, no matter what juggling and sleight of hand is employed, there is no disguising the fact that there is a massive disparity between the top teams – which is basically the six teams contesting the play-offs and everyone else. Dublin, Clare and Wexford are hanging on their coat-tails. The former arguably on an upward curve, the latter possibly clinging to old glories and with seemingly little coming down the track.
Then there are Offaly and Laois. The former can only glance wistfully back to the halcyon days of the 1980s and 1990s when they reached six All-Ireland finals and won three of them. For Laois there is no such consolation. Other than the Leinster Under-21 in 1983 and a few good displays against the big guns Antrim are in somewhat of a category of their own. Peerless in Ulster but without any serious opposition until they are offered as sacrificial lambs to Galway in the summer. The case for including both in Leinster seems compelling. As it stands no team in Leinster is going to beat Kilkenny for at least two or three years. The height of ambition therefore is for a team – either Dublin or Wexford this year – to reach the final, endure an awful hammering and then hope that they might do slightly better in the qualifiers. And even that is a psychological thing. Wexford have possibly had enough of that while Dublin are the wide eyed innocents for whom even a mauling in Croke Park in July would represent progress.
No doubt the sands will shift again and the Cats will presumably enter another period of relative decline. Others will benefit but the worrying thing is that apart from Dublin no Leinster county appears to have the raw material in the from of underage players to capitalise.

An Phoblacht Magazine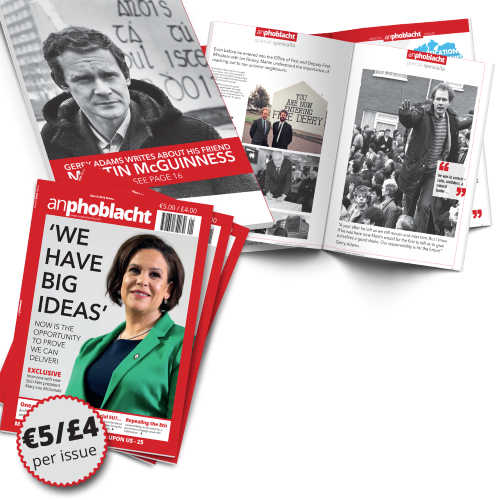 AN PHOBLACHT MAGAZINE:
The first edition of this new magazine will feature a 10 page special on the life and legacy of our leader Martin McGuinness to mark the first anniversary of his untimely passing.
It will include a personal reminiscence by Gerry Adams and contributions from the McGuinness family.
There will also be an exclusive interview with our new Uachtarán Mary Lou McDonald.
test