27 March 2008 Edition
Community action call as Frank McGreevy is buried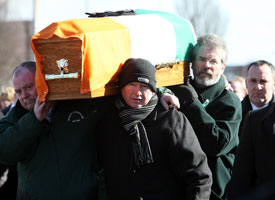 By Laura Friel
Several thousand mourners, including senior republicans, attended the funeral of former POW Frank 'Bap' McGreevy in West Belfast on Easter Saturday morning. The father of two was brutally beaten to death by young thugs at his Ross Street home in the Lower Falls.
The killing of the 51-year-old former IRA Volunteer was the third brutal murder in West Belfast in the last six months. Harry Holland was beaten to death outside his Andersonstown home last September and John Mongan, who was hacked to death in his home off the Falls Road.
Speaking at the graveside West Belfast MP Gerry Adams said Frank McGreevy's "terrible death had created a storm" in which "every able citizen in West Belfast has a question to answer. Are we going to be put down by thugs or are we going to stand together against them?"
Appealing for anyone with information concerning the killing to come forward, Adams said the murder of Frank McGreevy has to be a catalyst for the people of the Falls organising themselves against the thugs and criminals.
Calling on people to "take ownership of the process" Adams said that this would mean engaging with the PSNI and other criminal justice agendas, joining and working with the Safer Neighbourhoods Project and other similar bodies and it also means parents facing up to their responsibilities.
Speaking at a vigil held outside Frank McGreevy's home days before the funeral, West Belfast MLA Alex Maskey criticised the PSNI for "failing to deliver".
"None of us here should be surprised by the failure of the PSNI to respond positively to criminality in our community. The reality is that the PSNI is not up to the task at this time of providing a civic policing service that the public demands and needs. The PSNI is failing to deliver on call out times, it is not responding to information and it is failing in terms of its investigations into anti social behaviour and crime," said Maskey.
Delivering the Easter Oration in West Belfast DRD Minister Conor Murphy said the people would stand together to face down the threat posed by violent criminals.
"Twenty years ago when the people of West Belfast were attacked and demonised in events in the wake of the Gibraltar killings, they rose to meet the challenge and I have no doubt you will do so again," said Murphy.