27 March 2008 Edition
Sinn Féin presence at London St Patricks day events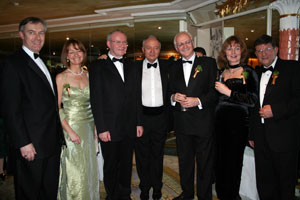 Sinn Féin had a strong presence at St Patrick's events in London, with Six County deputy First Minister Martin McGuinness attending the Lord Mayor's St Patrick's Day dinner, and Sinn Féin Vice President and West Tyrone MP Pat Doherty attending the parade and festival, and a series of engagements throughout the week.
The London parade and festival attracted around 100,000 people to Trafalgar Square, Leicester Square and Covent Garden.
Mayor of London Ken Livingstone said:
"This year's St Patrick's Day celebrations have been another great success. London has one of the largest Irish communities in the world and, as well as celebrating their contribution to London's success, today's event has been one of the liveliest we've seen yet.
"London's St Patrick's Day festivities are set to rival New York as an event where all Londoners can enjoy the best of Irish food, dancing and music."
Pat Doherty praised Ken Livingstone's role:
"Ken Livingstone as the Mayor of London has brought his energy and commitment to making the London St Patrick's festival the huge success it has become. He has positively recognised the role of the Irish community in London and their contribution to the city. Ken has been a long time supporter of the Irish Peace Process and of building links between Ireland and London."
Meanwhile, the Agreed Ireland Forum and Labour Committee on Ireland and others, including from the Wolfe Tone Society, circulated a leaflet urging London's Irish community to re-elect Ken Livingstone as Mayor on 1 May, when elections take place for the Mayor and Assembly. Thousands of leaflets were distributed to the festival, drawing attention to Ken's role in supporting the Irish community in London, building strong links between London and Ireland, for his progressive role over many years in supporting inclusive dialogue and the peace process and for his recognition for London's Irish community's role in building London's economy and in the political, cultural and social life of the city. His backing for the annual St Patrick's events has seen it grow into one of the most dynamic and largest cultural events of the year. Recent polls have suggested the vote will be close between Ken and Boris Johnson, the Tory candidate. Campaigners are urging people to ensure that Ken is re-elected and to ensure they are registered by 16 April deadline.