27 March 2008 Edition
McDonald calls on public to support health rally in Dublin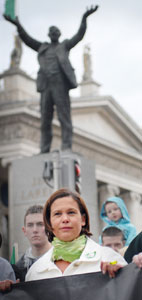 SINN FÉIN Dublin MEP Mary Lou McDonald has called on the public to come out  on  this Saturday  on 29  March in support of Irish Congress  of  Trade  Unions'  rally  for  decent public health services. Speaking  ahead  of  the  march McDonald said both the Taoiseach and Health Minister Mary Harney should accept responsibility for the failure to deliver quality healthcare to all.
"This  Saturday  thousands  of  doctors,  nurses,  hospital campaigners, political  activists  and  members  of the general public will gather in Dublin  to  demand  what  should  be  theirs as of right – decent public health services.
"Local hospital services  throughout  Ireland are being downgraded and stripped  of essential services for the promise of centres of excellence that have yet to be built.
"Public patients needing tests for suspected cancer continue to face an 18-month  wait  despite  government  promises  of improvements in cancer care services.
"HSE  staffing  in  hospitals  continues  to  fall  far short of what is required to carry out standard primary care services yet the recruitment ban continues.
"Hospitals are overcrowded  and  understaffed  leading to huge waiting times  in  Accident  and  Emergency  wards in particular and hundreds of public  patients  lie on hospital trolleys every day while those who can afford to go private don't have to wait for a bed.
"While all of this continues the Government plans to gift tax breaks and land  at  public  hospital sites to the developers of private for profit hospitals  thus  entrenching the unequal two-tier health service in this state.
"This government has failed in its commitment to deliver quality health care  to  all.  It  is  time  the Taoiseach and Minister Harney accepted responsibility for the crumbling state of this country's health service. Both  should  resign so that an equitable universal health service based on need alone can finally be built and delivered.
"I urge everybody to support this Saturday's march and rally for a decent public health system."