20 March 2008 Edition
Large attendance at fifth anniversary of murdered IRA Volunteer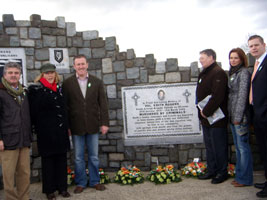 SPEAKING at last weekend's fifth annual commemoration of IRA Volunteer Keith Rogers, Louth County Councillor Tomás Sharkey reminded the large attendance of the words of the highly respected Irish republican, Brian Keenan, who, speaking on the first anniversary of the death of the young IRA man, stated:
"Those responsible for killing Keith were not the Brits nor loyalists but people who have the audacity to claim that they are republicans. They are not republicans. They may try to justify their cowardly act in whatever way they wish. The fact is that they murdered a soldier of the Republic. And that makes them no different from the Brits or the loyalists or other renegades in the past."
On Sunday, Tómas Sharkey told those present that Keith Rogers grew up surrounded by a proud republican tradition.
"He was reared in an area that never bowed to injustice and in every generation offered resistance when it was needed, cunning when the circumstances required it, and strategic planning and decisions when the time was right. Bhí an pobal seo i gcónaí dílis, cróga, réidh chun troda.
"Keith was politically aware and alert to the constant twists and turns of the political climate in modern Ireland. His benchmark in all this was his belief in the skill, ability and conviction of his comrades in Óglaigh na hÉireann and his knowledge and admiration for the men and women who had gone before him. So when this young man from north Louth saw that the Republican Movement needed him, regardless of the type of struggle – military, political or other – he stepped up to the plate and offered to do anything that was needed."