20 March 2008 Edition
Fifth Column
He's a very naughty boy
EX-SAS MAN Simon Mann, one of the mercenary leaders of the failed 2004 coup to seize power in west Africa's oil-rich Equatorial Guinea, has named the son of British former Prime Minister Margaret Thatcher as one of the money men behind the plot who ran away.
Mann and 80 hard-bitten mercenaries were intercepted when their arms-laden plane touched down in Zimbabwe on their way to violently overthrow a neighbouring government. Simon Mann was extradited to Equatorial Guinea last month to stand trial.
Sir Mark Thatcher escaped jail in South Africa when he did a deal with prosecutors and pleaded guilty to a lesser offence than mercenary crimes in return for a fine of half a million US dollars and a four-year suspended sentence. He has since left the country.
Locked up for 24 hours a day in solitary confinement, manacled and handcuffed, Simon Mann is being held in Black Beach Prison in Equatorial Guinea. He told Britain's Mail on Sunday newspaper last weekend that Mark Thatcher and Lebanese oil baron Eli Calil bankrolled the 'Dogs of War' bid to install a new regime and plunder the country's resources for themselves. The west African state produces more oil per head of population than Saudi Arabia.
When he was arrested in Zimbabwe, Mann wrote to his wife in England and asked that Thatcher and Calil (nicknamed 'Scratcher' and 'Smelly') and other coup backers rustle up "a large splodge of wonga" to get him released. The cash never came. Mann's patrons had abandoned him to his fate. Now the Old Etonian who put his neck on the line is very, very angry.
"[Thatcher and Calil] have let me down very badly. It is these two – not the investors – who I feel most bitter about because of their intimate involvement in all this. Those two should be here in shackles as well."
When Mann went to meet Mark Thatcher at his luxury home in South Africa in 2003, Baroness Thatcher's son raved about how his mother had avoided "red tape" in redeveloping London's docklands by setting up a quango.
"Mark said the London Docklands Development Corporation had been such a success because Lady Thatcher made sure there was no red tape and that the commission could do what it wanted. He wanted the same to happen in Equatorial Guinea."
Mark Thatcher – who famously got lost in the Sahara Desert during the Paris-Dakar Rally in 1982 and was missing for six days – wasn't attracted only by the vast fortunes to be made after the coup, the Eton-educated Mann suggested.
"I think the whole thing also appealed to Mark on an adventure level. But he isn't the sort who will roll his sleeves up and get stuck in.  He's just a very naughty boy."
But Mark's mummy was known as 'The Iron Lady' and renowned for being a staunch supporter of law and order and opposed to criminal acts of terrorism... except when they're planned by her very naughty little boy.


John Gormley's flying circus
FOUR CIA jets – two of them identified in an EU investigation into 'special rendition' (i.e. kidnap flights) – have landed at Shannon in recent weeks. But Green Party leader John Gormley has gone missing off the radar over Shannon.
The Limerick Leader reported last week:
"Last Wednesday [6 March], one of the jets, registration N475LC, made a refuelling stop lasting half-an-hour. Another plane, N478GS, made a similar stop at the airport on Saturday afternoon. One man, believed to be a US Government agent, was seen observing the refuelling process.
"The planes, operated by Centurion Aviation Services, a shelf company for the CIA, were identified in the EU report on the alleged use of European countries by the CIA for the transport and illegal detention of prisoners, which was published in November 2006. Despite this, both jets continue to stop at Shannon."
Two more aircraft, N71PG and N54PA, were due in Shannon on Sunday night, according to observers. The Limerick Leader added:
"Records show that both jets visited numerous air force bases in the US in recent weeks. However, flight records for N475LC and N478GS are no longer accessible online."
But someone in government must have access to the records, surely... someone like John Gormley's Green Party.


Castleblayney annexed
BORDER TENSIONS in Cavan/Monaghan were inadvertently raised last week amidst a political crisis that could have had the Venezuelan Army mobilised by Caoimhghín Ó Caoláin when an inexplicable sub-editing slip relocated Castleblayney from Monaghan to Cavan. What compounded the outrage in that it appeared in an article – a wry look back at the Sinn Féin Ard Fheis – penned by a Cavan man!
However, this wasn't a cross-border land-grab by the acerbic Martin McGovern. Martin is totally blameless and the editorial butterfingers take full responsibility for the error. We hope that diplomatic relations can be resumed with our Cavan/Monaghan comrades without further rancour. We apologise for any distress caused.

An Phoblacht Magazine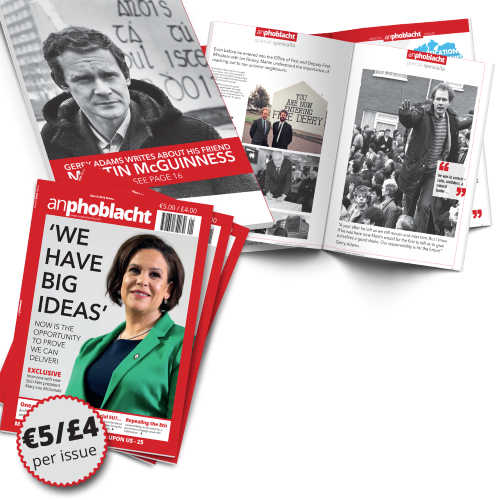 AN PHOBLACHT MAGAZINE:
The first edition of this new magazine will feature a 10 page special on the life and legacy of our leader Martin McGuinness to mark the first anniversary of his untimely passing.
It will include a personal reminiscence by Gerry Adams and contributions from the McGuinness family.
There will also be an exclusive interview with our new Uachtarán Mary Lou McDonald.
test